Klaus Dibiasi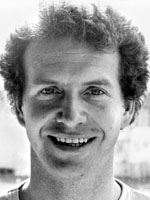 Klaus Dibiasi
Date of birth

1947-10-06
Birthplace

Solbad Hall (Austria)
Height

180 cm
Weight

74.0 kg
Disciplines

platform, springboard
Olympic Games (5 medals - 3 gold, 2 silver)
Platform: 1st (1968, 1972, 1976), 2nd (1964)
Springboard: 2nd (1968)
World Championships (4 medals - 2 gold, 2 silver)
Platform: 1st (1973, 1975)
Springboard: 2nd (1973, 1975)
European Championships (5 medals - 3 gold, 2 silver)
Platform: 1st (1966, 1974), 2nd (1970)
Springboard: 1st (1974), 2nd (1970)
One of the greatest divers ever
In the history of diving, not even the celebrated American Greg Louganis can boast an honour roll equal to that of Italy's Klaus Dibiasi, who won three consecutive Olympic platform titles between 1968 and 1976.
Born in Austria but brought up in the nearby Italian city of Bolzano, the young Klaus was licked into shape by his father Carlo, a former Italian champion and a participant at the 1936 Games in Berlin where he finished 10th in the platform competition.
The close-knit pair would work together honing Klaus' co-ordination and balance as well as using the trampoline to perfect his dive sequences.
Weather permitting, Klaus put in hard time at his local outdoor pool, notching up as many as 150 practice dives per day.
Olympic silver medalist at 17
In 1963 the respected German coach Horst Gorlitz joined Dibiasi senior, who was by now at the helm of the Italian diving team, in fine tuning Klaus' style.
The same year, Klaus won the first of a staggering 18 national titles and made a spectacular Olympic debut in Tokyo in 1964, winning the silver medal in the platform event and only missing out on gold by 1.04 point. He was just 17 years old.
Proud of their local hero, the council officials in Bolzano decided to cover the local pool to enable Dibiasi to train on a regular basis without worrying about the elements.
The Mexico Games in 1968 set the scene for his first Olympic triumph as he bagged the platform title and also had the bonus of winning silver in the springboard event.
Four years later in 1972, his second Olympic gold medal was tucked safely in his suitcase leaving Munich as the man nicknamed the "Ice champion" (because of his lack of emotion) after coolly dominating affairs.
More glory awaited in Montreal in 1976 where despite needing cortisone injections for tendinitis he held off the challenge of a certain Greg Louganis to win an historic third straight platform title.
A fantastic career by any standards and an achievement that many claim make Dibiasi the greatest diver of all time.
In November, 1976 he succeeded his father as coach of the Italian national team.
Copyright 2008 Agence France-Presse.