Giba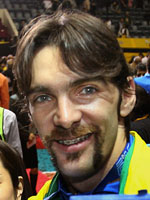 Giba
Known as

Giba
Date of birth

1976-12-23
Birthplace

Londrina
Height

194 cm
Weight

90.0 kg
Position

Spiker
Clubs

Belo Horizonte (1999-2001), Ferrare (Ita/ 2001-2003), Cuneo (Ita/since 2003)
Olympic Games (1 medal - 1 gold)
Winner (2004), 5th (2000)
World Championships (2 medals - 2 gold)
World League
Winner (2001, 2003, 2004, 2005, 2006, 2007), Finalist (2002), 3rd (1999, 2000)
South American championships
Winner (2001, 2003, 2005)
Brazilian championship
Other Honours
Most valuable player of the 2006 world championships
Giba the great drives on Brazil
Since his world title in 2002 and despite a positive test for cannabis in early 2003, Brazil's Giba remains the star talent on the national volleyball team and lived a dream during two weeks of happiness at the Athens Games in 2004.
Not only did Brazil dispatch all opponents on the way to gold but Giba became the father of a baby daughter on August 18 during the Games.
"It was a very emotional moment to see the raising of the Brazilian flag but the birth of a child is the most beautiful present anyone can ask for," he philosophised.
The veteran was also pivotal during Brazil''s charge towards their fourth consecutive major title when they overpowered Poland to win the 2006 world crown in Tokyo, where he was voted the tournament's most valuable player.
Giba will be 31 by the time the Beijing Olympics provide another massive stage but he looks set to be amongst the starting line-up in a bid to add even more glory to his impressive list of honours.
His life began with adversity when he suffered from leukemia at the age of 6 months but the son of a baker from the small city of Londrina overcame sickness and soon began to show talent on the volleyball court, joining a team in the Parana State at 15.
Two years later, his qualities as a spiker were coming to the fore as well as some acrobatic defensive play which propelled him into the national under-16 team that won the world title.
The travelling man
He hit new heights in 1997 by winning the Champions League before continuing his tour of clubs with a two-year stint with Report-Nipomed and later Telemig-Celular de Belo Horizonte with whom he helped win the Super League in 2000.
The giant forward (1.92m - 85kg) with a leap of 94cm continues to pick up honours wherever he plays, taking bronze in the World League in 1999, silver in the Panamerican championship and touching gold by winning the South American championship.
Disappointment followed at the 2000 Olympics where Brazil could only struggle home in fifth and the elusive title had slipped away.
Since 2001, he has been playing in Italy, first at Ferrare where along with Brazil teammates, Gilberto and Gil they were known as the "G" trio. And then since 2003 with Cueno.
An explosive player on the court but reserved off it, his quiet demeanour does not prevent hordes of young fans vying for his company after matches.
Even his marriage in 2000 to physiotherapist Fabiane did not deter his admirers and his looks and charisma inspired a magazine in Brazil to name him one of sexiest men in the country.
He then divorced and remarried this time to a naturalised Romanian Cristina who is hoping to play for Brazil at the 2008 Games in what would be a rare husband-wife double act.
Copyright 2008 Agence France-Presse.