Mildred Babe Didrikson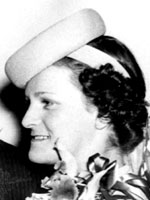 Mildred Babe Didrikson
Date of birth

1911-06-26
Birthplace

Port-Arthur (Texas)
Height

170 cm
Weight

52.0 kg
Discipline

hurdles, 100 yards, high jump, javelin
World records

5 (80m hurdles, 100 yards, high jump, javelin)
Olympic Games (3 medals - 2 gold, 1 silver)
80m hurdles: 1st (1932)
High jump: 2nd (1932)
Javelin: 1st (1932)
Anyone for athletics, baseball, basketball, golf?
Mildred "Babe" Didriksen's eclectic love for sport was legendary. Having become double Olympic champion in 1932 and the first real female star of the Games, she was widely regarded as America's most prominent sportswoman for the first half of the century.
Didriksen, the daughter of a Norwegian carpenter who had emigrated to the United States, was physically adept at most sports. However, it was athletics that most attracted her attention.
Shortly prior to the 1932 Games in Los Angleles, her club - the Employers Casualty Insurance Company of Dallas - won the American interclubs championships with one representant, 21-year-old Mildred.
At the Games, Didriksen shone, winning gold in the 80m hurdles and beating the world record in the process (11.7 sec). She also won the javelin gold and tied for the high jump title with compatriot Jean Shiley (1.65m) before being relegated to 2nd place.
The judges claimed she had jumped "head-first".
"Babe" would equally have been at ease in the shot put or the long jump - disciplines at which she was also competent - but the rules in force at the time restricted female competitors to participation in only three events.
Naturally gifted, and curious, Didriksen excelled in many other sports, including baseball, basketball and billiards, evoking admiration nation-wide. However, it was after marrying the heavyweight (150kg) wrestler, George Zaharias, that she discovered golf. In true Didriksen style, she also excelled on the fairways.
In 1940 she won her first golf tournament, before going on to become the best female player in the United States, then the world, at the beginning of the 1950's. Her major tournament wins were the US Open (3 times), the last of which she won in 1954, two years before being stricken with cancer at the age of 43.
Copyright 2008 Agence France-Presse.