Harrison Dillard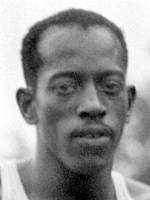 Harrison Dillard
Date of birth

1923-07-08
Birthplace

Cleveland
Discipline

sprint events and hurdles
World records

4 (120 yd hurdles, 220 yd hurdles)
Olympic Games (4 medals - 4 gold)
100m: 1st (1948)
4x100m relay: 1st (1948, 1952)
110m hurdles: 1st (1952)
Diligence pays off for Dillard
Perhaps it was destiny, or chance, that Harrison Dillard went on to record four Olympic victories - the same as his boyhood idol, Jesse Owens.
For it was 1936 Olympic icon Owens, who, having spoken to the 13-year-old while at a post-Olympic Games victory parade in Cleveland, gave the young hopeful his first pair of spikes. Destiny or not, Dillard put them to good use.
Born in Cleveland, Dillard was an ace hurdler who competed in the 1948 Olympic 100m final by default but took full advantage by dashing to the gold medal.
He came to prominence at Baldwin Wallace college where valuable training was provided by his coach Eddie Finnegan.
Hours were spent on the track perfecting a hurdles technique that would allow the promising athlete to consistently defend his 110m/hurdles university title.
World War II intervenes
As with many athletes on the cusp of greater things, World War II intervened and he would have to wait until 1948 to prove himself on the Olympic track.
Having fought in the war from 1943, leading up to the 1948 Games Dillard was at his peak, having amassed a total of 82 consecutive victories in the space of 13 months (May 31, 1947 - June 26, 1948).
But he failed to be selected for the 110m hurdles after a disastrous selection heat, and in the end he participated in the 100m. Dillard won that event, not entirely unexpectedly, and also took gold as part of the American 4x100m relay team.
So far, so good. But the most impressive hurdler of his generation had still not won a medal in his speciality. For that he would have to wait until Helsinki (1952).
Close as the result was, Dillard, after a lifetime of perfecting the hurdles, was rewarded with the 1952 Olympic title ahead of compatriot Jack Davis. Finally satisfied, "Old Bones" as he was called (because of his age - 29), also retained his 4x100m title as the only remaining member of the previous Olympic team.
Dillard attempted a comeback in 1956, but past his best, decided to retire from athletics.
Copyright 2008 Agence France-Presse.