Pyrros Dimas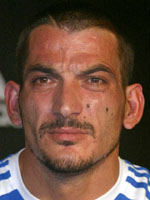 Pyrros Dimas
Date of birth

1971-10-13
Birthplace

Himara (Albania)
Height

172 cm
Weight

85.0 kg
Discipline

weightlifting (-82,5 kg, -83 kg, -85 kg)
Olympic Games (4 medals - 3 gold, 1 bronze)
-82.5kg: 1st (1992)
-83kg: 1st (1996)
-85 kg: 1st (2000), 3rd (2004)
World Championships (4 medals - 3 gold, 1 silver)
-83kg: 1st (1993, 1995)
-85kg: 1st (1998), 2nd (1999)
European Championships (4 medals - 1 gold, 1 silver, 2 bronze)
-82.5kg: 3rd (1992)
-83kg: 1st (1995), 3rd (1993)
-85kg: 2nd (1998)
The coming of the second Hercules
An ethnic Greek of Albanian extraction, the triple world and Olympic champion Pyrros Dimas made one last grab for gold in his adopted homeland in 2004.
He was 32 years old at the time and, though he could only manage bronze in his spiritual homeland for his final Olympic appearance, his status as one of the sport's greats was well and truly secure.
Born in southern Albania, Dimas is originally from an ethnic Greek minority (around 150,000, of Christian Orthodox religion) in the south of the country.
The fall of the Iron Curtain enabled him to get to Greece, and since moving to Athens in 1991, Dimas's destiny became clear.
A brief look at his previous results, including his 4th place for Albania in the 1990 European championships, proved ample for the authorities and Greek nationality quickly followed.
With a gold medal in the 82.5kg category during the 1992 Olympic Games in Barcelona when he was still only 21, the whole of Greece embraced their new Hercules.
Greece had just earned its first Olympic weightlifting medal since 1904.
Injury time
After joining the Greek army Dimas continued his winning ways: he became world champion in 1993 and in 1995 in the 83kg category.
He then justified his choice as the Greek delegation's flag-bearer at the 1996 Olympic Games in Atlanta by winning his second consecutive Olympic title in the 83kg category, and adding an impressive world record in the process : 392.5kg for his Olympic cumulated total.
Having won the world title in 1998, second place was all he could manage in 1999 after undergoing a complex operation on a shoulder. Again, injury played an adverse role when he could only manage a fourth place at the 2000 European championships due to leg trouble.
At Sydney he again reigned supreme, taking gold in the 85kg category ahead of the German Marc Huster.
He was part of the organising committee for the 2004 Athens Games, but for the competition itself, a fourth gold wasn't on the cards.
Despite only taking bronze, he was given a fantastic reception from fans and was joined on the weightlifting stage by his children in an emotional finale to his career.
Copyright 2008 Agence France-Presse.