Alexander Dityatin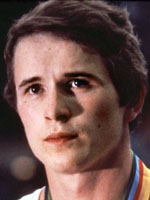 Alexander Dityatin
Date of birth

1957-08-07
Birthplace

Leningrad
Height

174 cm
Weight

67.0 kg
Discipline

gymnatics
Olympic Games (10 medals - 3 gold, 6 silver, 1 bronze)
All-around: 1st (1980), 4th (1976)
Teams: 1st (1980), 2nd (1976)
Floor: 3rd (1980)
Pommel horse: 2nd (1980)
Rings: 1st (1980), 2nd (1976)
Vault: 2nd (1980)
Parallel bars: 2nd (1980)
Horizontal bar: 2nd (1980)
World Championships (12 medals - 7 gold, 2 silver, 3 bronze)
All-around: 1st (1979), 3rd (1978)
Teams: 1st (1979, 1981), 2nd (1978)
Floor: 3rd (1978)
Rings: 1st (1979, 1981), 2nd (1978)
Vault: 1st (1979)
Parallel bars: 1st (1981)
Horizontal bar: 3rd (1979)
European Championships (6 medals - 2 gold, 2 silver, 2 bronze)
All-around: 3rd (1975)
Pommel horse: 1st (1979)
Rings: 1st (1979), 3rd (1975)
Parallel bars: 2nd (1975, 1979)
World Cup (12 medals - 4 gold, 4 silver, 4 bronze)
All-around: 1st (1978, 1979), 3rd (1975)
Floor: 3rd (1978)
Pommel horse: 2nd (1978)
Rings: 1st (1978, 1979)
Vault: 2nd (1979), 3rd (1978)
Parallel bars: 2nd (1979)
Horizontal bar: 2nd (1979), 3rd (1978)
Eight medals in Moscow
Alexander Dityatin was the first ever male gymnast to be awarded a perfect "10" (long horse vault) at the 1980 Moscow Games.
At home in Russia the man from Leningrad (now St Petersburg) went on to surpass his revered team-mate Nikolai Andrianov in the race for domestic sporting recognition.
After years of playing second fiddle to Andrianov, 22-year-old Dityatin won a record eight medals in the Moscow Games to add to his historic achievement of the perfect 10 - a feat which had only been recorded by one other gymnast, Romania's Nadia Comaneci.
Despite his eventual glory in Moscow, the rise of Dityatin was not quite so spectacular as that of his Romanian counterpart.
Physically he was not an astounding prospect when he began to grace the apparatus. Small, with round-shoulders, he was not overly interested in the choreographic aspects of the sport.
Yet he had two qualities that would eventually help him achieve success - he was a hard worker, and also very well co-ordinated.
At the age of 15 he was given special dispensation to take part in the senior USSR championships.
Two years later he won the Spartakiades - an event which was followed by a growth crisis in which he grew 12cm in one year.
Little financial reward
No longer the short gymnast who seemed to hold little promise, he was ready for major competitions. At the age of 18, as part of the national team, he came third in the European championships which were won outright by Andrianov.
As number two in Russia, he came fourth at the Montreal Games (1976) and third in the 1978 world championships. But the subsequent world championships held in Dallas, Texas proved the turnaround, with Dityatin winning 4 golds and a bronze.
For all his hard work and determination, even if he was never to be given the chance to defend his titles in Los Angeles, Dityatin shares the credit for being one of the few gymnasts to have introduced a certain finesse and dimension to the sport.
He finished his career with three gold medals at the 1981 world championships but his sporting exploits failed to make him rich and he went on to work as a customs officer in Moscow.
Copyright 2008 Agence France-Presse.