Harold Abrahams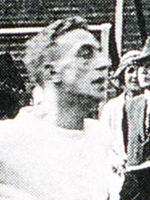 Harold Abrahams
Date of birth

1899-12-15
Birthplace

Bedford
Height

181 cm
Weight

79.0 kg
Discipline

100m, 4x100m relay
Olympic Games (2 medals - 1 gold , 1 silver)
100m: 1st (1924)
200m: 6th (1924)
4x100m relay: 2nd (1924), 4th (1920)
Chasing the family tradition
Harold Abrahams, one of the athletes characterised in the film, "Chariots of Fire", was crowned Olympic 100m champion at the Paris Games of 1924.
His story differs somewhat from the fanciful film version.
Abrahams came from a Jewish family with a strong sporting tradition. Two of his brothers had also been athletes and one of them represented Britain, without success, in the long jump during the Games of 1906 and 1912.
Prior to Paris, Abrahams had competed in the Games at Antwerp in 1920, in the 100m and 200m, but had failed to get past the quarter-finals. However, with the help of Sam Mussabini, the coach who had helped South Africa's Reggie Walker to victory in 1908, Abrahams made sure of reaching the final in Paris.
An anonymous letter
Initially, Abrahams had been selected for the 100m, 200m, the 4x100m relay and the long jump. He did not care to take part in so many events and sent an anonymous letter to the newspaper, The Daily Express, criticising his inclusion in the long jump, in which he had set a new English record.
The English federation subsequently pulled him out of the event.
In Paris, Abrahams won the 100m in 10.6 sec, becoming the first European to win the blue-ribband event as well as equalling American Jackson Scholz' Olympic record twice.
Two days later in the 200m he only managed sixth place. In the 4x100m, Abrahams and his British team-mates finished second.
The following year, though, he gave up athletics for good after picking up a thigh injury while long-jumping.
He went on to work as a radio commentator, a lawyer, a writer, a statistician, and was also president of the British Athletics Association.
For the rest of his life Abrahams, his wife, Arthur Porritt (the 1924 bronze medallist) and his wife, sat down to dinner every July 7 at 7pm - in commemoration of the exact day and time he won his gold medal in Paris.
He died in January 1978.
Copyright 2008 Agence France-Presse.