Nikolay Andrianov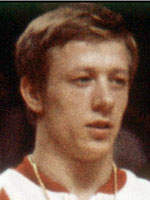 Nikolay Andrianov
Date of birth

1952-10-14
Birthplace

Vladimir (Russia)
Height

165 cm
Olympic Games (15 medals - 7 gold, 5 silver, 3 bronze)
All-around: 1st (1976), 2nd (1980), 4th (1972)
Teams: 1st (1980), 2nd (1972, 1976)
Floor: 1st (1972, 1976), 2nd (1980)
Pommel horse: 3rd (1976)
Rings: 1st (1976)
Vault: 1st (1976, 1980), 3rd (1972)
Parallel bars: 2nd (1976), 6th (1972)
Horizontal bar: 3rd (1980), 6th (1972)
World Championships (13 medals - 4 gold, 9 silver)
All-around: 1st (1978), 2nd (1974)
Teams: 1st (1979), 2nd (1974, 1978)
Pommel horse: 2nd (1974)
Rings: 1st (1974, 1978)
Vault: 2nd (1974, 1978, 1979)
Parallel bars: 2nd (1974, 1978)
European Championships (17 medals - 9 gold, 6 silver, 2 bronze)
All-around: 1st (1975), 2nd (1973), 3rd (1971)
Floor: 1st (1973, 1975), 3rd (1971)
Pommel horse: 1st (1971), 2nd (1975)
Rings: 2nd (1971, 1973)
Vault: 1st (1971, 1973, 1975)
Parallel bars: 1st (1975), 2nd (1971, 1973)
Horizontal bar: 1st (1975)
World Cup (2 medals - 2 gold)
All-around: 1st (1975, 1977)
Leading the race for gymnastics supremacy
Nikolay Andrianov's efforts during the 1976 Montreal Olympics ultimately allowed the Soviet team to enter the then Japanese-dominated race for gymnastics recognition.
His eventual haul of 15 Olympic medals (7 gold), is the most achieved by any Summer athlete (all sports) and is comparable with his compatriot Aleksandr Dityatin, whose haul of eight medals in one Olympiad (1980) remains unsurpassed.
Though Dityatin stands alongside his compatriot on the medals front, Andrianov, orphaned in the early years of infancy, grew up under the tutelage of coach Nikolai Tolkatschev at the Boriswiesnick club.
He was the top gymnast in his country by the age of nineteen and won his first major medals in the European championships in Madrid (1971).
A year later at Munich, facing the favoured Japanese, he won deserved respect for his gold medal-winning performance on the floor, also winning silver and bronze medals. But it was following Munich that Andrianov truly began to shine.
Japanese influence
Strangely enough, it was the Japanese who provided the means - their prestige in the eyes of the gymnastics world, and Andrianov's respect for the team led by the highly respected coach Akitomo Kaneko, led to a stay in the Far East.
The result: Andrianov left the "classicism" of the Soviet school behind to adopt what many regarded as the more spectacular and daring style of the Japanese.
A fruitful period of learning in Japan was followed by successive victories in the 1973 European championships at Grenoble, France and in Bulgaria (1974), where he became the first gymnast to perform a triple salto on the rings, at Berne, Switzerland (1975), where he became known, through his floor routine, as the Nureyev of gymnastics.
All this preceded his domination of the Olympic podium at Montreal (1976) and his world championship title win at Strasbourg, France. The "old man" of Soviet gymnastics won a further two gold medals before bowing out after the Moscow Games.
The arrival of fresh talent on the Soviet team signalled a new era - talent that Andrianov had helped influence.
Consequently, he was given the job of coaching the national team, and was repaid with the success of two of his pupils, Youri Koroljow (1985 world champion) and Wladimir Artemov (all-around Olympic champion in Seoul).
He finished his career with 39 medals, Olympic, world and European.
Copyright 2008 Agence France-Presse.