David Douillet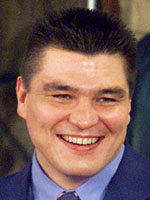 David Douillet
Date of birth

1969-02-17
Birthplace

Rouen
Height

196 cm
Weight

125.0 kg
Categories

heavyweight, all categories
Olympic Games (3 medals - 2 gold, 1 bronze)
Heavyweight: 1st (1996, 2000), 3rd (1992)
World championships (4 medals - 4 gold)
Heavyweight: 1st (1993, 1995, 1997)
All categories: 1st (1995)
European championships (4 medals - 1 gold, 1 silver, 2 bronze)
Heavyweight: 1st (1994), 2nd (1993), 3rd (1991, 1992)
Eternally among the greats
French judo maestro David Douillet capped a glittering career when he took his second Olympic title at the 2000 Sydney Games albeit amidst some controversial circumstances when he defeated archrival Shinichi Shinohara of Japan.
Even before the refereeing dispute that led the Japanese camp to claim they were robbed, Douillet had already stamped his mark on the sport. He can now look back on a proud and colourful career that leaves him as one of judo's most revered champions.
Born on February 17, 1969 in Rouen, the gentle giant of the mat was an awesome sight to see, with a somewhat bigger physical build than average (1.80m at age 11).
With his father having left the family before his 1st birthday, and his mother working in Switzerland, Douillet was raised in Normandy by his grandmother who, when he was 11 years old, bought his first kimono.
Only six years later, Douillet became the French Junior champion, giving the national selectors of the French Judo Federation cause for premature celebration when they first set eyes on the naturally gifted athlete.
Injury threatens Sydney bid
After winning two European bronze medals, Douillet began his Olympic campaign six years later by collecting a bronze in 1992 at Barcelona, justifying a selection which some had seen as disputable.
Having won the European title in 1994, he subsequently lifted four world titles (1993, 1995, 1997 heavyweight and all 1995), and the Olympic heavyweight title in 1996 in Atlanta - a feat which sits alongside that achieved by the legendary Japanese judoka, Yasuhiro Yamashita.
Douillet's medal count began to take shape, but not without accompanying and increasing injury.
His worst injury occurred, not on the mat, but while he was riding his motorbike a few weeks after the Games in Atlanta, with resultant leg, shoulder and collarbone injuries.
A year before the Games in Sydney, he was given more cause for concern when he had to pull out of the world championships in Birmingham due to acute back trouble.
Douillet is a household name in France and as well as hosting his own TV show he has written a book and does the rounds of after dinner speaking. At his marriage French President Jacques Chirac was the guest of honour.
Since leaving a post as national coach for the French judo heavyweights, he also runs a business named DD which produces and sells camping equipment, outdoor equipment as well as martial arts material.
He outlined his plans for the future quipping: "I want to lead a full life until I'm 90 and then die of a heart attack making love".
Copyright 2008 Agence France-Presse.