Heike Drechsler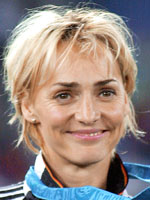 Heike Drechsler
Date of birth

1964-12-16
Birthplace

Gera (GDR)
Height

181 cm
Weight

68.0 kg
Discipline

100m, 200m, long jump
World records

6 (200m and long jump)
Olympic Games (5 medals - 2 gold, 1 silver, 2 bronze)
100m: 3rd (1988)
200m: 3rd (1988)
Long jump: 1st (1992, 2000), 2nd (1988)
World Championships (6 medals - 2 gold, 2 silver, 2 bronze)
100m : 2nd (1987)
4x100m relay: 3rd (1991)
Long jump: 1st (1983, 1993), 2nd (1991), 3rd (1987)
European Championships (6 medals - 5 gold, 1 silver)
200m: 1st (1986), 2nd (1990)
Long jump: 1st (1986, 1990, 1994, 1998)
World Indoor Championships (3 medals - 2 gold, 1 silver)
200m: 1st (1987)
Long jump: 1st (1987), 2nd (1991)
European Indoor Championships (6 medals - 4 gold, 2 silver, 1 bronze)
Long jump: 1st (1986, 1987, 1988, 1994), 2nd (2000), 3rd (1985)
Grand Prix
German Championships
15 times champion (8 for East Germany)
An example of longevity
With a career spanning over 20 years Germany's Heike Dreschler won her second Olympic long jump gold at the ripe old age of 36 to crown a career in which she was national champion a staggering 15 times.
At her first Olympic Games in 1988 she not only managed silver in her preferred event, which her great rival Jakie Joyner-Kersee won, but took bronze medals in both the 100m and 200m sprints.
She was born in East Germany 1964 and became the first ever world champion long jumper at the inaugural Helsinki event in 1983. While this made Heike favourite for the 1984 Los Angeles Olympics, the Eastern Bloc countries boycotted those Games.
But another year on Heike earned fine recompense when she broke the long jump world record with an effort of 7m 44cm.
In 1986 she also broke the 200m world record and was subsequently named athlete of the year by the IAAF. At the 1987 world championships she had to content herself with a bronze in the long jump but won a very welcome silver in the 100m.
Olympic gold at last
She then took a little time out, had a daughter and watched as her country went through reunification. This was a tough time for her with accusations of links with the secret police in the old regime.
At the 1991 worlds following her comeback, Joyner-Kersee once more denied her the gold but the American's dominance was not to last long. At the Barcelona Games in 1992 Drechsler finally landed the Olympic title, the American finishing third.
The following year reaped further success as she won the world championship in Stuttgart and also landed the European crown.
Then came the doping bombshell where ex-athlete Brigitte Berendonk revealed widespread malpractice in former East Germany, and directly implicated Drechsler.
Her career started to slide. The 1995 worlds were a write off and a thigh strain kept her out of the 1996 Atlanta Games. The same injury kept her out of the 1999 worlds too but she did pick up a European gold in 1998.
Then in Sydney, she proved she was still one of the world's best jumpers by outclassing the field to land her second Olympic title in an event where American superstar Marion Jones finished third.
She also goes down as one of only two women to win athletics gold twelve years apart. West German high jumper Ulrike Meyfarth is the only other woman to hold this distinction.
Copyright 2008 Agence France-Presse.