Herb Elliott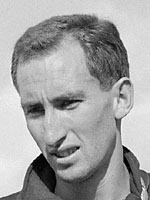 Herb Elliott
Date of birth

1938-02-25
Birthplace

Subioca
Height

182 cm
Weight

70.0 kg
Discipline

middle distance
World records

4 (mile, 1500m)
Olympic Games (1 medal - 1 gold)
Commonwealth Games (2 medals - 2 gold)
880 yards: 1st (1958)
Mile: 1st (1958)
Herb Elliott: the irrepresible kangaroo
He was unbeaten in 43 consecutive mile and 1500m races, set four world record times (mile, two in the 1500m and 4xmile) and, to top it all, won the 1500m Olympic title in 1960 at the Roman Games.
Herb Elliott remains one of the most prestigious middle distance runners in the history of athletics.
The indomitable Australian was virtually unbeatable on the track, notably during the three years (1958-1961) he spent at the top of his profession before his retirement.
Born near Perth the son of shopkeepers, Elliott began to take athletics seriously in 1955. At the age of 17 he ran off with national junior titles in the 880 yards and the mile.
At the Commonwealth Games in Cardiff (1958), he romped to victory in the 880 yards, while humiliating Britain's Gordon Pirie (4 - 5 seconds gap) in the mile. Eleven days later in Dublin he pulverised the world mile record by nearly three seconds.
Three weeks later the 1500m record fell but it was the ease with which he recorded his 3min 36sec that most people admired, beating the former record by 2.1 seconds.
No to professionalism
After refusing the offer of 24,000 dollars to appear in the professional ranks, Elliott married in Cambridge, England where he was spending his sabbatical year and he would later graduate from that celebrated university with a master's degree in Natural Science.
Six months from the Games in Rome, he returned to Portsea to join up with his old coach, Percy Cerutty - and undertook a harsh training regime which included running in sand dunes.
At the Games in Italy, the leggy athlete began by following the rapid rhythm set by France's Michel Bernard. After about 900 metres, Elliott took control, joined Bernard then began accelerating.
Thinking someone was on his heels, he continued to accelerate until his coach broke through barriers of police and track officials to wave a white flag, informing him of the possibility of a new world record. Elliott charged home in 3min 35.6sec with France's Michel Jazy coming second, almost 3 seconds later.
This gifted athlete retired at the age of 22 but was back in the Olympic spotlight at Sydney 2000 as one of the final bearers of the Olympic flame.
Copyright 2008 Agence France-Presse.