Kornelia Ender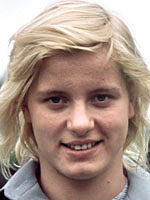 Kornelia Ender
Date of birth

1958-10-25
Birthplace

Plauen
Height

180 cm
Weight

75.0 kg
Disciplines

freestyle, butterfly, individual medley, relays
World Records

30 (100m and 200m freestyle, 100m backstroke, 100m butterfly, 200m medley, 4x100m freestyle, 4x100m medley)
Olympic Games (8 medals - 4 gold, 4 silver)
100m freestyle: 1st (1976)
200m freestyle: 1st (1976)
100m butterfly: 1st (1976)
200m individual medley: 2nd (1972)
4x100m freestyle relay: 2nd (1972, 1976)
4x100m medley relay: 1st (1976), 2nd (1972)
World Championships (10 medals - 8 gold, 2 silver)
100m freestyle: 1st (1973, 1975)
200m freestyle: 2nd (1975)
100m butterfly: 1st (1973, 1975)
200m medley: 2nd (1973)
4x100m freestyle relay: 1st (1973, 1975)
4x100m medley relay: 1st (1973, 1975)
European Championships (4 medals - 4 gold)
100m freestyle: 1st (1974)
200m freestyle: 1st (1974)
4x100m freestyle relay: 1st (1974)
4x100m medley relay: 1st (1974)
A precocious triumph ends in ambiguity
Kornelia Ender was but a slight 13-year-old when claiming three Olympic silver medals in the pool at Munich 1972, an event at which the East German delegation had a very average outing.
Four years later Ender and co. simply swept the board, causing the Americans to openly question the validity of their adversaries' victories in Montreal.
Years later, after a series of denials, former East German swimming coaches openly admitted to having systematically administered steroids, most, without the full knowledge of the young athletes involved.
Despite the blatant wrong-doing, Ender's talent as a swimmer remains undeniable. With or without those drugs, it is feasible that the teenager, who was taken from her family home in Bitterfeld at the age of 6 to train in the city of Halle as part of the government's long-term programme for sporting and world recognition, would have met success.
As such, Ender embodied the East's obsession with sports science. While the Americans were sending astronauts into space, East Germany was busy analysing and doing everything in its power to improve its best athletes.
Success at 13
At 13 Ender won a widely-accepted three silver medals in Munich. However, the four golds she won a year later in the Belgrade world championships, as part of the "overly-muscular" team, which won ten of the fourteen titles on offer, started the rumours flowing.
In Montreal (1976), that same delegation dominated the doubting and bitter Americans, winning 11 of the possible 13 golds - a marked improvement on Munich - with Ender helping herself to four golds and one silver.
Following Montreal, Ender retired from competing at the tender age of 18. She married East German backstroker, Roland Matthes, and after the birth of their child the couple moved to West Germany, where they divorced in 1982.
Afterwards, Ender admitted that she had never been informed about the regular injections she was given - athletes, she said, were given no choice.
Indeed, it was left to the former president of the East German sports federation to admit, quite openly: "Only performances counted, and for that all methods were employed."
Having retired, Ender became swimming coach in Mayence and married again, this time with former decathlonian, Steffen Grummt.
Copyright 2008 Agence France-Presse.