Bernard Lagat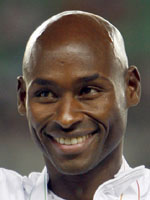 Bernard Lagat
Date of birth

1974-12-12
Birthplace

Kapsabet (Kenya)
Height

175 cm
Weight

61.0 kg
Discipline

middle and long distance
Olympic Games (2 medals - 1 silver, 1 bronze)
1500m: 2nd (2004), 3rd (2000)
World Championships (3 medals - 2 gold, 1 silver)
1500m: 1st (2007), 2nd (2001)
5000m : 1st (2007)
World Indoor Championships (2 medals - 1 gold, 1 silver)
1500m: 2nd (2003)
3000m: 1st (2004)
African Championships (1 medal - 1 gold)
Faith sees Saint Bernard follow legendary trail
Middle distance veteran Bernard Lagat became only the third man to win both the 5000m and 1500m at an Olympics or world championships when the Kenyan-born American completed this heroic double of world titles at Osaka in 2007.
The gentlemanly then 32-year-old said he had taken his cue from Hicham El Guerrouj's heroics at the Athens Olympics, while Finland's Paavo Nurmi achieved the first double at the 1924 Games.
Lagat, who as a Kenyan farm boy sprinted a mile and a half to school and back each day, studied in Washington from 1996 and took US citizenship in 2005, so his exploits place him alongside Tyson Gay, Jeremy Wariner and Allyson Felix as one of the American stars of those 2007 world championships.
In Osaka he outfoxed defending champion Rashid Ramzi over the shorter distance before winning a titanic last-lap battle with Eliud Kipchoge in the 5,000m, and he can now look toward Beijing with supreme confidence.
Playing second fiddle
Lagat was previously the nearly man of athletics taking bronze at the 2000 Games in Sydney behind winner Noah Ngeny of Kenya and his great friend El Guerrouj, who had been favourite but who choked with big day nerves.
El Guerrouj made no mistake at the 2001 world championships at Edmonton taking the title and edging Lagat into silver. Lagat was now studying in the US and disappointed Kenyans by refusing to go to the 2002 Commonwealth Games in Manchester but taking part however in the lucrative Golden League that season.
An EPO test saw him barred from the 2003 worlds in Paris before he was cleared with a negative B-sample: "I hope this clears any suspicion I ever took drugs," he said at the time.
For lesser men the 2004 Olympics would bring only painful memories. With just 60m to the finish line he had the 1500m title within his grasp. However, a monumental effort from El Guerrouj again pipped him at the line after an astonishing neck-and-neck struggle.
Lagat showed rare sportsmanship in toasting his victor as a worthy and deserved champion and years later when he took his own double at the 2007 worlds he had this to say: "The story I was following was one by Hicham El Guerrouj in Athens. I wanted to do the same, because he inspired me. He is a wonderful man and friend."
El Guerrouj has retired now, and will no doubt be cheering for Lagat when the pistol fires in Beijing in 2008.
Copyright 2008 Agence France-Presse.