Meseret Defar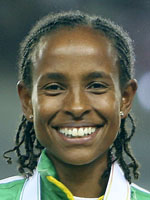 Meseret Defar
Date of birth

1983-11-19
Birthplace

Addis Abeba
Height

155 cm
Weight

42.0 kg
Discipline

5000m, 3000m
World records

3 (5000m, 3000 indoor)
Olympic Games (1 medal - 1 gold)
World Championships (2 medals - 1 gold, 1 silver)
5000m: 1st (2007), 2nd (2005)
World Indoor Championships (4 medals - 3 gold, 1 bronze)
3000m: 1st (2006, 2004, 2008), 3rd (2003)
African Championships (2 medals - 1 gold, 1 silver)
5000m: 1st (2006), 2nd (2000)
Rift valley rival
Ethiopian Olympic 5000m champion Meseret Defar's rivalry with compatriot Tirunesh Dibaba should provide a fascinating sideshow in Beijing as the media grows increasingly fascinated by their tussle.
Meseret holds the 5000m world record, is the 2007 world champion, the 2008 world indoor gold medallist and in 2006 denied Dibaba a sweep of six Golden League wins and a share of a one million dollar jackpot.
Dibaba also became the first woman to win both the 5000 and 10,000m at the 2005 world championships in Helsinki relegating Defar to silver in the 5000m.
While Defar is concentrating on the 5000m, that final will be no means certain for her, with a string of up-and-coming Kenyans also entering from stage left to take 2nd, 3rd and 4th behind her at Osaka in 2007.
The word Defar means bold and bold she has been since winning an African Championships 5000m silver in 2000 whilst still a junior. Her first senior year was 2003 and her big stage debut was the Paris world championships where sickness saw her crash out in the heats.
The following year at the world indoors at Birmingham a time of 8:42.58 in the 3000m earned a bronze medal at 19. Later that year she qualified as a a reserve for the 5000m Ethiopian Olympic team before a then hotly-contested shake up saw her included.
Gold reign
History vindictes that decision.
Defar turned on the power at Athens over the final 250 metres to take gold in 14mins 45.65sec ahead of Kenya's Isabella Ochichi who could not resist the kick of her Rift Valley rival and had to settle for second in 14:48.19, while then world champion Dibaba came through strongly over the final 600m to grab the bronze medal with 14:51.83.
But a year later at the 2005 world championships in Helsinki, Defar was unable to keep pace with Dibaba, who already had the 10,000m title and was thoroughly impressive taking her historic double.
Defar though set her first world record at the 5000m distance in New York June 3, 2006 with a time of 14:24.53 before reducing it to 14:16:63 in June 2007.
Dibaba had a sore stomach after winning the 10,000m in Osaka so was absent from the 2007 world championship final.
But Defar was the form runner all that season and in the world championship final she timed her run to perfection kicking past Kenyan Vivian Cheruiyot with 200m to go.
She then added the 2008 world indoor crown to her honours in Valencia, her third straight title under the roof.
She can look forward to Beijing as defending champion, record holder and world champion, albeit perhaps as second favourite.
Copyright 2008 Agence France-Presse.