Dick Fosbury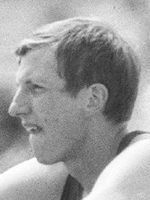 Dick Fosbury
Date of birth

1947-03-06
Birthplace

Portland
Height

195 cm
Weight

83.0 kg
Discipline

high jump
Olympic Games (1 medal - 1 gold)
Fosbury's flop is a hit in Mexico
Astonished spectators in Mexico watched Dick Fosbury jump backwards over the bar as all his rivals chose the conventional method of jumping on their stomaches.
This technique would have only been an intriguing footnote in the annals of Olympic history but for one crucial point - Fosbury used it to capture the gold medal with a jump of 2.24 metres.
Yet prior to Mexico, Dick Fosbury's "flop" had enormous difficulty in being accepted and only his own perseverance was able to silence his detractors.
Even his trainer, Berny Wagner, tried to convince him to give up the sport. The son of English immigrants persevered and, in 1967, qualified for his international debut when he scaled 2.21m to mark himself down as a serious outsider.
He promptly cleared 2.24m to win gold and beat Valeri Brumel's Olympic record.
The victory won over his critics, with the majority of high jumpers adopting his technique from October 20, 1968, the day of the Mexico high jump final.
Immortal in name
Fosbury is unique in the world of athletics as the only sportsman to lend his name to a particular style.
Sport, however, was only an enjoyable pastime and, much like his compatriot Bob Beamon, he experienced difficulty in building on that success.
He travelled all over the world to find a cure for depression before returning to the States to settle with his wife and child and to pursue a career as a bridge and highways engineer.
In 1972 he made a comeback but his best performance was only 2.08m, his hopes of competing in the Munich Games extinguished.
He was to speak only of the "flop" (i.e. dropping his own name) and was adamant that if he hadn't adopted the technique somebody else would have done so in his place.
Copyright 2008 Agence France-Presse.