Dawn Fraser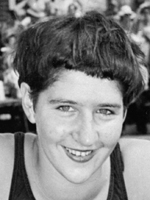 Dawn Fraser
Date of birth

1937-09-04
Birthplace

Sydney
Height

170 cm
Weight

65.0 kg
Discipline

100m freestyle, relays
World records

28 (100m freestyle, 200m freestyle, 4x100m freestyle relay, 110 yds butterfly)
Olympic Games (8 medals - 4 gold, 4 silver)
100m freestyle: 1st (1956, 1960, 1964)
400m freestyle: 2nd (1956), 4th (1964), 5th (1960)
4x100m freestyle relay: 1st (1956), 2nd (1960, 1964)
4x100m medley relay: 2nd (1960)
A double comeback worthy of victory
Whether it was due to a modest background, or a refusal to give up swimming even when banned in the early stages of her career, Dawn Fraser's determination led her to battle adversity and ultimately conquer the sprint events at three consecutive Olympic Games.
Recording a time of 1:02 for the 100m in Melbourne, doubtful judges delayed the astonishing announcement - it equalled the men's Australian record, registered only a few years previously.
Three Olympic titles in 1956, 1960 and 1964 in the 100m freestyle eventually brought the daughter of a Sydney docker justified success.
Her elder brother Don introduced the feisty and outspoken youngster to the rudiments of the crawl, and she took to the pool enthusiastically.
Fraser, armed with an ever-improving technique, was however banned by the Australian Amateur Swimming Federation (AASF) for a year.
During competition as a member of the Leichhart-Balmain club, first places equalled financial prizes. Although ineligible since she was still under 16, Fraser's ban remained.
It was here that her determination shone brightest. Through American coach Harry Gallagher, and despite having bronchial asthma, Fraser began to prove her doubters wrong and worked feverishly, with positive results.
Prior to the Tokyo Games, she suffered a near-irreversible setback when she was at the wheel while involved in a car crash with her mother. Tragically, her mother died and it seemed Fraser was lost to swimming.
Turbulent
Instead, despite having to wear a neck brace for several months, depriving her of a proper training schedule, she came back to win 100m gold at the Games in a time of 59.5.
Named Australian of the Year in 1964, she married her fiancÚ Gary Ware. But she returned from her honeymoon to learn that she had received a ten-year ban from the AASF for "dishonourable behaviour" - due to a prank in Tokyo which led to the theft of the Olympic flag.
Eventually winning her case against the AASF, Fraser then embraced politics following the Australian Olympic Committee's decision to boycott the Moscow Games.
Winning as an independent candidate in her home town, Fraser served as a member of the legislative assembly from 1988 - 1991 before returning to swimming, this time as a coach.
At the centenary Games of 1996 in Atlanta, she carried the Olympic torch before handing over to Mohammed Ali who lit the flame, but sadly the Games proved a bad memory for Fraser as she suffered a heart-attack during the tournament.
A year before Sydney 2000, Fraser was voted female swimmer of the century in Vienna by a top-level international jury headed by Juan Antonio Samaranch, then president of the International Olympic Committee.
Samaranch then appointed her the "First Lady of the Olympic Games".
Copyright 2008 Agence France-Presse.