Antonius Geesink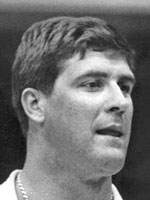 Antonius Geesink
Date of birth

1934-04-06
Birthplace

Utrecht
Height

198 cm
Weight

118.0 kg
Categories

heavyweight (+ 80kg), open category
Olympic Games (1 medal - 1 gold)
World Championships (3 medals - 2 gold, 1 bronze)
Before category introduction: 3e (1956)
Heavyweight: 1st (1965)
Open: 1st (1961)
European Championships (37 medals - 24 gold, 9 silver, 4 bronze)
Brown Belt: 2nd (1951)
1st Dan: 1er (1952)
3rd Dan: 1st (1955)
4th Dan: 1st (1957, 1958)
+ 80 kg: 1st (1959, 1960, 1961)
Open: 1st (1953, 1954, 1957, 1958, 1959, 1960, 1961, 1967), 2nd (1955)
Pro + 80 kg: 1st (1962, 1963, 1964)
Pro + 93 kg: 3e (1965)
Pro Open: 1st (1962, 1963, 1964), 3rd (1965)
Team: 1st (1953, 1960, 1961), 2nd (1954, 1957, 1958, 1959, 1962, 1964, 1965), 3rd (1955, 1967)
Casting a shadow over Japanese supremacy
Holland's Anton Geesink is the man who broke Japan's stranglehold on world level judo and was the first non-Japanese to win either a world or Olympic title.
The new order was established in 1961 when the 1.98m Dutchman overpowered Japan's Koji Sone in the final of the world championships at Paris in what is now seen as a landmark turning point where raw power overcame subtle skill.
Fate would have it that the upcoming Olympics were in Japan and in fact judo made its competitive debut at those Tokyo Games of 1964.
With his massive frame Geesink bludgeoned his way to the final of the open categrory where he met and defeated Japanese national hero Akio Kaminaga in the "final of all finals".
The defeat was considered a matter of national mourning in Japan and caused a wave of soulsearching through the domestic sport there.
Geesink had done a great deal of training in Japan to perfect his technique and won himself many admirers amongst Japanese when, at the moment he finally had Kaminaga pinned after eight minutes of the gold medal bout a Dutch fan tried to run onto the mat to celebrate only for Geesing to hold up a palm to wave him back and allow his defeated rival the respect the discipline calls for.
A national hero and inspiration, Geesink ended his career with a further world title in 1965. He also amassed 21 European titles before moving back to the street in Utrecht which, to this day, still bears his name.
In later years he became a Dutch IOC member - an appointment which came under threat in 1999 when his name was mentioned in the votes-for-bribes scandal which embroiled the IOC in 1998. Having reportedly received $5000 dollars for a foundation with which he was connected, Geesink was given a severe reprimand by his National Olympic Committee and the IOC.
Copyright 2008 Agence France-Presse.