Haile Gebrselassie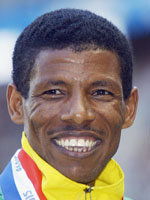 Haile Gebrselassie
Date of birth

1973-04-18
Birthplace

Arssi
Height

163 cm
Weight

55.0 kg
Discipline

5000m, 10,000m, marathon
World Records

24 (hour on track, 2 miles, 5000m, 10,000m, semi-marathon, marathon, 2000m indoor, 3000m indoor, 5000m indoor)
Olympic Games (2 medals - 2 gold)
10,000m: 1st (1996, 2000), 5th (2004)
World Championships (7 medals - 4 gold, 2 silver, 1 bronze)
5000m : 2nd (1993)
10,000m : 1st (1993, 1995, 1997, 1999), 2nd (2003), 3rd (2001)
World Indoor Championships (4 medals - 4 gold)
1500m: 1st (1999)
3000m: 1st (1997, 1999, 2003)
World Half-Marathon Championships (2 medals - 2 gold)
Individual: 1st (2001)
Teams: 1st (2001)
World Cross Country Championships (4 medals - 1 silver, 3 bronze)
Long course: 3rd (1994)
Long course teams: 2nd (1993), 3rd (1994, 1996)
African Championshiips (2 medals - 1 silver, 1 bronze)
5000m: 2nd (1993)
10,000m: 3rd (1993)
Haile the King
The diminutive Ethiopian with the winning personality Haile Gebrselassie was already guaranteed an exalted position in Athletics' hall of fame with a string of world records, Olympic and world titles stretching from 1500 to 10,000m, but in the twilight of his career he reinvented himself by setting a world record in the marathon.
As a kid his father had forbidden him from running, locking him away for days at a time without food as punishment to push him toward a real profession. But at 15 he ran his first marathon, wearing street shoes, in Addis Abba in a time of 2hrs 48min, taking a 200km bus trip back to his village and hobbling the last few kilometres in agony, his great journey anly just begun.
He'll be 35 at Beijing, the grand old man of the Games, with a reputation to rank alongside 9-times Olympic gold medallist Norway's Paavo Nurmi or the Czech Emile Zatopek as the greatest middle distance runner of his age.
Rivals on the beaten track
Twenty years after that first marathon the little man's resolve (he stands at 1.63m) has resulted in two Olympic golds, four world titles, indoors and out, innumerable victories on road and track and the not insignificant statistic of 24 world records.
The 24th of those records was a 2hr 4min 26sec he registered at the Berlin marathon, beating the previous world best time set at the same venue four years previously by his great 10,000m rival from the late 90's Kenya's Paul Tergat.
Tergat lost out in two of the greatest Olympic 10,000 metres races of recent times, in Atlanta 1996, and Sydney 2000. It was the latter race which defined Gebrselassie. He had been badly injured some months before, had only effected a comeback shortly prior to the Olympics, and would have been in no shape to cope with Tergat had he thought to reproduce the tactics of Atlanta, where he had run the second 5000 metres over half a minute faster than the first half, in an attempt to run the legs off the Ethiopian. But Gebrselassie was in prime form in Atlanta, and swept past to victory. That must have laid the doubts in Tergat's mind. Never a fast finisher, he worked and worked his speed in 2000, such that he felt he could outsprint the Ethiopian in Sydney. Tergat ran steadily, and shot away with 300 metres to run. Gebrselassie clawed it back gradually, and inched past to victory.
Gebrselassie also took four consecutive 10000m world championship titles from 1993-1999, won an indoor 1,500m title in 1999 and set a 5,000m world record that same year.
He set three 10000m world records the last at his lucky Dutch track Hengelo June 1, 1998 with 26min, 22.75sec, a record now twice beaten by his successor and compatriot Keninisa Bekele, the Olympic and world champion.
"In the 5000 and 10000m you are running against the clock and opposition. In the marathon you are running against the distance itself," Gebrselassie recently said of his conversion to the longer race.
It would now seem obvious he can go the distance, and maybe, just maybe, bow out with one more Olympic gold at Beijing.
Copyright 2008 Agence France-Presse.