Shane Gould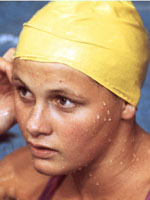 Shane Gould
Date of birth

1956-11-23
Birthplace

Sydney
Height

172 cm
Weight

60.0 kg
Discipline

freestyle, medley
World Records

11 (100m, 200m, 400m, 800m and 1500m freestyle, 200m medley)
Olympic Games (5 medals - 3 gold, 1 silver, 1 bronze)
100m freestyle: 3rd (1972)
200m freestyle: 1st (1972)
400m freestyle: 1st (1972)
800m freestyle: 2nd (1972)
200m medley: 1st (1972)
4x100m freestyle relay: 8th (1972)
A brief light illuminates the Olympic pool
Like a rare orchid which blooms only when nature permits a 15-year-old Australian by the name of Shane Gould briefly held all the freestyle world records and also won five medals (3 gold) at the Munich Games of 1972 before withdrawing from competition forever at the age of just 17.
Compared to some of her adversaries, Gould's tale is one of sporting innocence. A childhood spent in the lagoons around the islands of Fiji was the perfect playground for the energetic youngster.
By the time her family had returned to Sydney, Gould's ease and style in the water had caught the eye of trainer Ken Wiles, who recognised winning potential in the 9-year-old.
The family worked and sacrificed to help her cause, but Gould's strict daily schedule ultimately contributed to her success.
Time to blossom
With a heartbeat of 39 beats per minute (a rare condition shared only by runner Emil Zatopek and cyclist Fausto Coppi), Gould exploded onto the Munich public, swimming 12 races in eight days.
Equally comfortable in sprint as in long distance, her natural talent led to world records in the 200m, 400m freestyle and the 200m medley.
Following Munich, she became the first woman to swim the 1500m in under 17 minutes at the Australian Championships in Adelaide (16:56.94), setting a new world record.
Between the ages of 15 and 17 Gould was simply untouchable. In one eight-month period alone she held all world freestyle records (100m - 1500m).
Years of competition and sacrifice, however, finally caught up with the teenage star.
Perhaps, for reasons unknown at the time, Gould was beginning to tire of the very notion of competing.
In a biography (Tumble Turns) which was published in 1999, she talks of how she felt alienated from her team-mates, and of a certain "coolness" towards her when she wept on the podium after winning one of her Olympic titles.
Unsure of her future in sport, Gould retired at the tender age of 17 and later married a surfer, Neale Innes. She had four children and settled in Perth on their horse ranch at Margret River.
At the Sydney Games in 2000, she was given the honour of carrying the torch in the Olympic stadium.
Copyright 2008 Agence France-Presse.