Florence Griffith-Joyner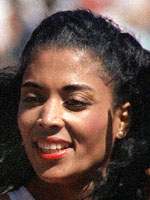 Florence Griffith-Joyner
Date of birth

1959-12-21
Birthplace

Los Angeles
Height

170 cm
Weight

59.0 kg
Disciplines

100m, 200m, relays
World records

3 (100m, 200m)
Olympic Games (5 medals - 3 gold, 2 silver)
100m: 1st (1988)
200m: 1st (1988), 2nd (1984)
4x100m relay: 1st (1988)
4x400m relay: 2nd (1988)
World Championships (2 medals - 1 gold, 1 silver)
200m: 2nd (1987)
4x100m relay: 1st (1987)
Controversial career ends tragically
Florence Griffith-Joyner's flamboyant style on the track not only led to comments about the American sprinter's colourful running apparel. "Flo-Jo", nails and all, raised the stakes in such a way that the rest of the female athletics pack were left trailing behind.
However, her untimely death at the age of 38 could not prevent the doubters from querying whether her extraordinary feats were due, in part, to doping.
Griffith-Joyner was born into a family of eleven children in a rough and tumble corner of Los Angeles. Her mother was a teacher and her father an electrician.
Flo-Jo's athletics career took off in style following her silver medal wins in the 200m in the 1984 Olympics, then at the world championships in 1987.
Married to her coach Al Joyner, the 1984 Olympic triple jump champion, Flo-Jo's progress from 1984-87 was largely unremarkable, improving from 10.99 to 10.96 for the 100m and from 22.04 to 21.96 in the 200m.
Rapid progress
But in 1988, Griffith-Joyner seemed physically transformed. In July, it was a noticeably more muscular athlete who showed up for the American Olympic selection heats. Her voice was also deeper and improvement was somewhat more evident - 21.77 sec in the 200m and a phenomenal 10.49 sec in the 100m.
This world record was questioned by many specialists, outwith the suspicion of doping. Officially, the wind was negligible during that race, as indicated by the anemometer which showed 0.00m/sec. Another, however, showed the wind at more than five metres per second.
In Seoul, "Flo-Jo" confirmed her superiority by winning the 100m in 10.62 sec, the 200 metres in 21.34 sec (world record) and the 4x100m relay. Having become the fastest woman on earth, the Californian retired the following year without truly putting an end to the continual rumours surrounding her exploits.
Her death in September 1998, officially due to choking following an epileptic fit, did nothing to quash those rumours.
Copyright 2008 Agence France-Presse.