Michael Gross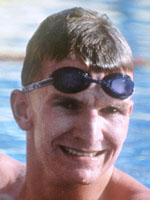 Michael Gross
Date of birth

1964-06-17
Birthplace

Frankfurt
Height

202 cm
Weight

83.0 kg
Disciplines

freestyle, butterfly
World Records

12 (200m and 400m freestyle, 100m and 200m butterfly, 4x200m relay)
Olympic Games (6 medals - 3 gold, 2 silver, 1 bronze)
200m freestyle: 1st (1984), 5th (1988)
100m butterfly: 1st (1984), 5th (1988)
200m butterfly: 1st (1988), 2nd (1984)
4x100m freestyle relay: 4th (1984), 6th (1988)
4x200m freestyle relay: 2nd (1984), 3rd (1988)
4x100m medley relay: 4th (1984, 1988)
World Championships (13 medals - 5 gold, 5 silver, 3 bronze)
200m freestyle: 1st (1982, 1986)
100m butterfly: 2nd (1982, 1991)
200m butterfly: 1st (1982, 1986), 2nd (1991)
4x200m freestyle relay: 1st (1991), 2nd (1986), 3rd (1982)
4x100m medley relay: 2nd (1986), 3rd (1982, 1991)
European Championships (19 medals - 13 gold, 4 silver, 2 bronze))
200m freestyle: 1st (1983, 1985), 3rd (1987)
100m butterfly: 1st (1983, 1985), 2nd (1987)
200m butterfly: 1st (1981, 1983, 1985, 1987)
4x100m freestyle relay: 1st (1985), 2nd (1987), 3rd (1981)
4x200m freestyle relay: 1st (1983, 1985, 1987), 2nd (1981)
4x100m medley relay: 1st (1985), 2nd (1983)
The Albatross glides to Olympic victory
With an "armspan" of over two metres, Michael Gross had no chance of escaping the nickname "the Albatross".
The German has, however, had the last laugh, winning a total of three Olympic titles, five world titles, 13 European gold medals and registering 12 world records along the way.
His international career began early, at the age of 17, winning the European 200m butterfly title in Split.
Despite intense training, he managed to study full time and obtained his degree in communications whilst refusing to go and train in the United States, where he believed the methods to be too draconian.
In the right lane for life
He established his first world record at the age of 19, swimming 1:48.28 in the 200m freestyle on June 21, 1983 in Hanover.
But in the Los Angeles Games Gross beat this record on two separate occasions, notably in the final where he touched the wall a whole two body lengths ahead of American Mike Heath in a time of 1:47.44. In the 100m butterfly, another victory, another world record (53.08). Paradoxically though, Gross lost out on the gold medal in his favoured event, the 200m butterfly.
After taking a year out of competition, the Frankfurt native went to Seoul with the modest intention of helping West Germany win the 4x200m relay. Instead, he left with the 200m butterfly gold and a bronze in the relay.
Having run into conflict with his own federation, Gross temporarily retired from competition to concentrate on passing his exams. At the world championships in Perth, he returned, winning the 4x200m freestyle, silver in both the 100m and 200m butterfly and a bronze in the 4x100m medley.
A short time after his world triumph, he retired at the age of 27 to concentrate on a career as a journalist.
Copyright 2008 Agence France-Presse.