Tirunesh Dibaba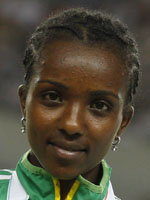 Tirunesh Dibaba
Date of birth

1985-10-01
Birthplace

Arssi
Height

155 cm
Weight

47.0 kg
Disciplines

5000m, 10,000m and cross-country
World records

3 (5,000m : 1 outdoor and 2 indoor) - up to 06/06/2008
Olympic Games (1 medal - 1 bronze)
World Championships (4 medals - 4 gold)
5000m: 1st (2003, 2005)
10,000m: 1st (2005, 2007)
World Cross Country Championships (12 medals - 9 gold, 3 silver)
Short course : 1st (2005), 2nd (2004)
Short course teams: 1st (2004, 2006), 2nd (2003)
Long course : 1st (2005, 2006, 2008), 2nd (2007)
Long course teams: 1st (2005, 2006, 2008)
African Championships (1 medal - 1 silver)
World Cup (1 medal - 1 gold)
Dibaba at the double
With her astonishing last lap burst of speed Ethiopian distance diva Tirunesh Dibaba won both the 5,000 and 10,000m at Helsinki in 2005 becoming at age 19, the first woman to achieve such a feat at a single world championships.
A year earlier at the Athens Olympics she had become the youngest ever Ethiopian athlete to win a medal, though some were disappointed it was only a 5,000m bronze, while her compatriot and now bitter rival the world record holder Meseret Defar won gold.
Tirunesh (Ethiopians are known by their first name) had been on track to win all six Golden League 5,000m races in 2006 but after an epic neck-and-neck struggle Meseret denied her on the line at the season's final meet.
A small, beautiful woman who speaks only Amharic, Tirunesh has worked hard on her now trademark last lap acceleration and she usually runs it in well under a minute, and few can live with the final burst of speed over the closing 200m.
Indeed she sprinted clear of Defar at the 2005 worlds to complete her double with the 5,000m title.
Two years later at Osaka in 2007 stomach pains saw her drop out of the 5,000m, eventually won by Defar, but not before a gripping come from behind win in the 10,000m, which was one of the true highlights of the world championships.
Not only was she struggling with stomach cramps but she fell heavily over tumbling compatriot Mestawat Tufa to drop to the back of the field. But in scenes reminiscent of the 1982 hit 'Chariots of Fire,' the Ethiopian shrugged off her pain and the sweltering conditions to surge past the entire field and therefore become the first woman to defend a 10,000m world title.
Family fortune
Dibaba's shot to fame by scoring an unlikely 5,000m victory at the Paris 2003 world championships the first of seven individual world titles, at just 18.
A short-course long-course double in the 2005 cross-country worlds is another highlight of her career and she retained the long-course in 2006 and 2008.
Only in 2007 did she fail to win the long-course settling for silver.
In January 2007 she smashed her own 5000m world indoor record at Boston with a time of 14:27.42, which is around 12 seconds faster than Berhane Adere's 2004 record.
The outdoor record set by Meseret in July 2006 in New York of 14:24.53 would seem within her grasp but the 15 year-old 10,000m record set by China's Wang Junxia in 1993 is still a good 45 seconds faster than anyone running today.
Copyright 2008 Agence France-Presse.