Sanya Richards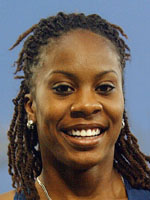 Sanya Richards
Date of birth

1985-02-26
Birthplace

Kingston (Jamaica)
Height

173 cm
Weight

61.0 kg
Discipline

400m, 4x400m relay
Olympic Games (1 medal - 1 gold)
400m: 6th (2004)
4x400m relay: 1st (2004)
World Championships (3 medals - 2 gold, 1 silver)
400m: 2nd (2005)
4x400m relay: 1st (2003, 2007)
Golden League
Winner (2006) - won all six races
Other Honours
IAAF Athlete of the year (2006)
Richards trying to climb the 400m wall in China
Rising 400m star Sanya Richards dominates the golden league but the 2006 IAAF athlete of the year knows full well that an individual Olympic or world crown is still missing despite her growing wealth.
She certainly has time on her side to rectify this blip and became the youngest woman to run under 49 seconds in 2005 when she was only 20.
The Jamaican born Richards was part of the powerful 4x400m American women's relay team that won at Athens and at Osaka for the 2007 world championships.
But for the girl who spent her childhood in Kingston before a move to Fort Lauderdale and a Florida high school atletics career bad luck in the individual events means she will have her sights on the big prize at the Beijing Games in 2008.
Cash flows in, medals held on ice
After winning silver and bronze in the 400m and 200m respectively at the 2002 world junior championships, she anchored her team to the relay world title in 2003 in Paris when the American women romped home.
She ran out of gas at the Athens Games finishing sixth and was back for another crack at the 2005 world championships in Helsinki where she had gold in her sights as she came down the home stretch with a full three metre lead on Tonique Williams-Darling before the Bahaman's devastating sprint to the line took the title.
However, six successive wins in the 2006 Golden League season pocketed her a cool 250,000 dollars.
The same year she won the World Cup race in Athens where a time of 48.70 seconds shattered one of the oldest US records, Valerie Brisco's 48.83 from the 1984 Olympics.
Now recognised as world number one Richards was unwell and failed to qualify for the 2007 world championships and had to watch from the stands as Britain's Christine Ohuruogu became world champion.
There was some consolation as she helped the USA team to 4x400m glory in Osaka.
Just a few weeks later Richards again cashed in on a massive payday when destroying the 400m field, including all the medallists at the world championships, to win a sixth golden league meet in 49.27secs, the fastest time of the year and well ahead of Ohuruogu's time of 50.40s.
She thereby shared the 2007 golden league 1 million dollars cash prize with Russian pole vaulter Yelena Isinbayeva, 500,000 each.
Results
Copyright 2008 Agence France-Presse.