Bob Hayes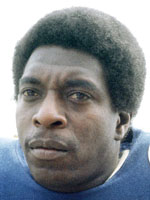 Bob Hayes
Date of birth

1942-12-20
Birthplace

Jacksonville
Height

183 cm
Weight

87.0 kg
Discipline

100m, 4x100m relay
World Records

2 (100m, 4x100m)
Olympic Games (2 medals - 2 gold)
100m: 1st (1964)
4x100m relay: 1st (1964)
Miscellaneous
1 Super Bowl (in 1972 with the Dallas Cowboys - American football)
The Tokyo Tornado
In the 1964 Games in Tokyo Bob Hayes not only won gold in both the 100m and 4x100m relay, but also set new world records in both races too.
It seems a shame then that at just 22 he quit the track to join top class American football outfit Dallas Cowboys, where his stunning speed ensured both notoriety and no little success, including a winners ring in the Superbowl.
Prior to this shift though Hayes can look back on the indelible mark he left on the 100m track in Tokyo. Running in lane 1 on a less-than-perfect track, Hayes crossed the finish line almost 2 metres ahead of his nearest rivals.
Cuba's Enrique Figuerola and Canada's Harry Jerome, trailed in behind while Hayes equalled German Armin Hary's world record (electronically-timed) of 10.0 sec. According to the hand-held times, Hayes ran in 9.9 seconds - effectively 9.8.
Physically impressive (1.83m/87kg), Hayes was born in a ghetto in Jacksonville, Florida.
Incidentally it was he that put an end to the domination of white sprinters - since Harrison Dillard in London 1948, no African origin athlete had been successful in the Olympic 100m.
48 wins in a row
But Hayes had been well-prepared. He arrived following a run of 48 consecutive victories. However, he was even more impressive in the relay. After some poor baton passing, the Americans trailed the French team by five metres.
Then Hayes took over, producing one of the most spectacular comeback runs in Olympic history to take the gold medal with a margin of three metres over Poland's Marian Dudziak, setting a new world record in the process.
The coach of that triumphant team, Bob Giegenback timed Hayes as soon as he began racing.
According to his watch, he crossed the line in an unprecedented 8.5 sec. This was supported by many observers - in any case, the slowest official time for his leg was 8.9 sec.
He gave up athletics in 1964 to join the lucrative world of American football and with the Dallas Cowboys he won the Super Bowl in 1971 before joining the San Francisco 49ers.
He remains the only man to win an Olympic gold medal and a Super Bowl winners ring.
Sadly, following his football career, he encountered family problems and fell into the dark world of alcoholism and drugs.
In 1979, he spent 10 months in prison for attempting to sell cocaine to an undercover police officer. "It destroyed my life," he recalled later in his autobiography.
Following his retirement from sports in 1976, Hayes lived in Dallas, Texas before returning to his hometown of Jacksonville where he lived mainly in obscurity with his mother and sister.
"Bullet Bob" was suffering from prostrate cancer and serious problems. He died in 2002 at the age of 59-years-old.
Copyright 2008 Agence France-Presse.