Justine Hénin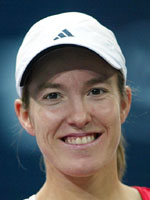 Justine Hénin
Date of birth

1982-06-01
Birthplace

Liege
Height

167 cm
Weight

57.0 kg
Professional debut

1999
Grand Slam titles

7 (up to 09/09/2007)
Victories in tournaments

41 (singles), 2 (doubles) - up to 17/02/2008
Best year-end WTA world ranking

1st (2003, 2006, 2007)
Grand Slam tournaments
1 Australian Open titles (2004), 1 final (2006), 1 semi-final (2003)
4 French Open titles (2003, 2005, 2006, 2007), 1 semi-final (2001)
Wimbledon : 2 finals (2001, 2006), 3 semi-finals (2002, 2003, 2007)
2 US Open titles (2003, 2007), 1 final (2006)
Other victories
1 gold medal (singles) at the Olympic Games in Athens (2004)
1 Fed Cup title (2001), 1 final (2006)
2 Masters titles (2006, 2007), 1 semi-final (2003)
Henin in a class of her own
Number one for the past two seasons, Justine Henin has reigned unopposed on the women's circuit although her campaign in the Olympic year of 2008 got off to a poor start when she was eliminated in the quarter-finals of the Australian Open.
At 26, the woman from Liege has already won seven Grand Slams, four at Roland Garros, two US Open crowns and one Australian Open while only the grass courts of Wimbledon have failed to stage one of her triumphs.
At the top of her art, she is a deserved champion but her off-court personal life has not quite been a fairytale.
She has two older brothers and a sister but suffered the deep pain of losing her mother to cancer when she was just 12.
Coached by Argentine Carlos Rodriguez from the age of 14, Henin won the French Open junior title at 15 but saw her career momentum slowed down by a succession of injuries.
She made a professional breakthrough in 2001 by storming into the semi-finals of Roland Garros before losing to Belgian compatriot Kim Clijsters and then going on to reach the final of Wimbledon where she was beaten by American Venus Williams.
She also teamed up with Clijsters to win the Fed Cup.
In November 2002, she married Pierre-Yves Hardenne, a tennis coach at a private ceremony in which guests were asked not to bring presents but make donations to an association that helped children with cancer.
The Iron lady
Glory was just around the corner. In 2003, she won her first title at Roland Garros on the Paris clay, thrashing Clijsters in straight sets which set a winning machine into motion.
While she again failed at Wimbledon, she won the US Open championship for the first time and finished the year at number one.
In 2004, she picked up where she left off, winning the Australian Open only to be hit by a mystery virus which cost her the number one spot and her year was only brightened by the gold medal at the Athens Games.
Back to full fitness, she won the French Open for the second time in 2005 and really found her stride again in 2006 when she reached the final of all four Grand Slams but only came away with another Paris title for her efforts.
Back to number one, she remained there for the entire 2007 campaign, winning Roland Garros and the US Open but the year was marred by her divorce and a serious car accident that involved her eldest brother.
The incident helped her resume relations with her father with whom she had been estranged.
She is considered to be the most complete player since Chris Evert and has a fabulous one-handed backhand.
Very mobile, she is tenacious and fights for every point while mentally and physically she has become stronger with experience.
She will evidently line up as one of the favourites for another Olympic title in Beijing where the tennis tournament promises one of it's strongest fields in the battle for gold.
Copyright 2008 Agence France-Presse.