Saif Saeed Shaheen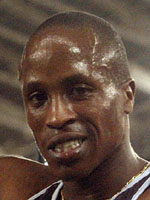 Saif Saeed Shaheen
Date of birth

1982-10-15
Birthplace

Keiyo (Kenya)
Height

174 cm
Weight

62.0 kg
Discipline

3000m Steeplechase
World record

1 (3000m steeplechase) 7min 53.63sec on September 3, 2004 at Brussels
World Championships (2 medals - 2 gold)
3000m steeplechase: 1st (2003, 2005)
World Indoor Championships (1 medal - 1 silver)
Commonwealth Games (1 medal - 1 gold)
3000m steeplechase 1st (2002)
Steeplechase from Kenya to Qatar
Saif Saeed Shaheen won Qatar's first ever world athletics championships gold medal, a fact which stuck in the throat of Kenyan athletics authorities as the untouchable 3000m steeplechase champion had originally been their man.
The then 20-year-old formerly known as Stephen Cherono controversially switched nationalities from Kenyan to Qatari a fortnight before those 2003 outdoor championships in Paris where he won what was also a first personal world title.
A reputed fee of around half a million dollars had been made for the 2002 Commonwealth champion (who had also beaten Hicham El-Guerrouj in a 2003 Grand Prix) to switch, and a further million dollars for the world title and a 1000 dollars a month for life, though neither of those sums has been confirmed, there would seem to be little other motivation for such a dramatic move.
The win also ended a run of six world titles and five Olympic ones for Kenya, who had enjoyed 20 years of uninterrupted glory in the discipline.
Such was Kenya's chagrin they won an objection to his participation at the Athens Games - a similar tactic was employed by the Kenyans to adopted Dane Wilson Kipketer in the 1996 Games for the 800m - and he came out smarting.
Olympic dream
Determined to rub their noses in it, he promptly broke the world record with a stunning 7min 53.63sec on September 3, 2004 at Brussels and he has been invincible since.
At Helsinki in 2005, Shaheen retained his men's 3000 metres steeplechase title as the 22-year-old timed 8 minutes 13.31 seconds to take the crown ahead of two Kenyans, Olympic champion Ezekiel Kemboi (8:14.15) who made a complete hash of the final water jump and Brimin Kipruto (8:15.30).
Draped in a Qatari flag, Shaheen was not exactly given a resounding reception when he did his lap of honour but it didn't affect the thick-skinned runner.
Shaheen, who counts Abraham Cherono and 1999 world steeplechase champion Christopher Kosgei among his brothers, has pinpointed a gold medal at the 2008 Beijing Games as the objective needed to crown his reputation as a true great of long distance running.
"The Olympic title remains my big goal as it (my reputation as a great) is not going to be complete until I have that in my collection."
Shaheen missed the 2007 world championships due to injury, but is a fanatical trainer and would seem to have the class and the drive to achieve his and Qatar's Olympic dream.
Copyright 2008 Agence France-Presse.