Lin Ma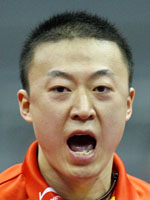 Lin Ma
Known as

Ma Lin
Date of birth

1980-02-19
Birthplace

Shenyang
Height

173 cm
Weight

71.0 kg
Sport

Table tennis
Style

Penhold, looper
Olympic Games (1 medal - 1 gold)
Men's doubles: 1st (2004 with Qi Chen)
World Championships (16 medals - 8 gold, 5 silver, 3 bronze)
Singles: 2nd (1999, 2005, 2007), 3rd (2001)
Doubles: 1st (2007), 3rd (2003, 2005)
Mixed doubles: 1st (1999, 2003), 2nd (2007)
Teams: 1st (2001, 2004, 2006, 2007, 2008), 2nd (2000)
World Cup (5 medals - 4 gold, 1 bronze)
Singles: 1st (2000, 2003, 2004, 2006), 3rd (2005)
Ma's home comfort
Frequently ranked world number one and with four world cup titles to his name, Ma Lin can make up for his near misses at the world championships if he can overcome his own demons to claim the men's singles table tennis gold in Beijing.
It is often said that Ma is too conservative to allow the full force of his brilliant but bridled creative game to simply sweep rivals away.
When playing confidently the right-handed penholder's aggressively swift game with dizzying variations of tactics and a devastating third ball attack can be simply irresistible.
He was deeply disappointed at missing the Olympic selection for Sydney 2000 and when winning his first World Cup that year he cried openly with relief at not choking.
With the monkey off his back, he repeated the feat in 2003.
Love match
An estimated 300 million viewers from China tuned in to the May 2003 table tennis world championships in Paris where Ma Lin and Wang Nan beat compatriots Liu Gouzheng and Bai Yang in the mixed doubles final, Ma and Bai being romantically attached.
The singles competitions in Paris proved disappointing for the Chinese, hot favourite Ma slipping out in the quarter finals, failing to improve on his 2001 bronze and 1999 silver in the two previous world championships.
A year later Ma won the Olympic doubles title with Chen Qi but was upset in the last 16 of the coveted singles tournament by Swedish veteran Jan Ove Waldner, he did however end the year ranked No 1 in the world.
At the 2005 and 2007 world championships Ma had been ahead against team-mate Wang on both occasions, only to wilt under a late onslaught from his compatriot.
At the 2007 event second seed Wang toppled favourite Ma by four sets to three - 4-11, 8-11, 11-5, 4-11, 11-9, 11-8, 11-6 to leave China heading home with all five gold medals on offer ahead of next year's Beijing Olympics.
Wang may in fact be Ma's top Olympic rival but also standing in this stockily built man's way at Beijing will be the resurgent Olympic champion South Korea's Ryu Seung-Min and the technically brilliant German Timo Boll.
Ma, from Shenyang in the Liaoning Province, began training full time at a regional centre at age ten when the state enrolled him at a regional table tennis centre where he was housed, fed, educated and trained until he joined the national team at 14.
He'll be 28 and on top of his game at Beijing, which would appear to be the perfect time for China's highest ever table tennis medal winner to make a statement on this greatest of all stages.
Results
Place
Event
Time/Score
Gold
Men's Singles Table Tennis
Final
Men's Singles Table Tennis
Final - Match: 1
4 (11, 11, 6, 11, 11)
Men's Singles Table Tennis
Semifinal - Match: 2
4 (11, 11, 11, 10, 3, 11)
Men's Singles Table Tennis
Quarterfinal - Match: 4
4 (11, 11, 11, 12)
Men's Singles Table Tennis
Round 4 - Match: 8
4 (11, 11, 11, 11)
Men's Singles Table Tennis
Round 3 - Match: 16
4 (11, 11, 11, 9, 11)
Copyright 2008 Agence France-Presse.