Laure Manaudou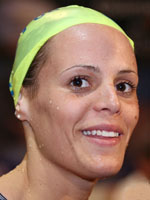 Laure Manaudou
Date of birth

1986-10-09
Birthplace

Villeurbanne
Height

180 cm
Weight

63.0 kg
Disciplines

Freestyle, backstroke, medley relay
World Records

7 (200m, 400m freestyle, long course ; 400m, 800m and 1500m freestyle, short course) - up to 28/03/2007
Olympic Games (3 medals - 1 gold, 1 silver, 1 bronze)
400m freestyle : 1st (2004)
800m freestyle : 2nd (2004)
100m backstroke : 3rd (2004)
World Championships (6 medals - 3 gold, 2 silver, 1 bronze)
200m freestyle : 1st (2007)
400m freestyle : 1st (2005, 2007)
800m freestyle : 2nd (2007)
100m backstroke : 2nd (2007)
4x200 m freestyle relay : 3rd (2007)
European Championships (13 medals - 9 gold, 1 silver, 3 bronze)
200m freestyle : 3rd (2006)
400m freestyle : 1st (2004, 2006)
800m freeestyle : 1st (2006)
100m backstroke : 1st (2004, 2006), 2nd (2008)
200m backstroke : 1st (2008)
200m medley : 1st (2006)
4x200m freestyle relay : 1st (2008), 3rd (2006)
4x100m medley relay : 1st (2004), 3rd (2006)
European Short Course Championships (11 medals - 8 gold, 1 silver, 2 bronze)
200m freestyle : 2nd (2007)
400m freestyle : 1st (2005, 2006, 2007)
800m freestyle : 1st (2005, 2006)
100m backstroke : 1st (2005, 2006, 2007), 3rd (2003)
4x50m medley relay : 3rd (2007)
Troubled waters for French siren
Laure Manaudou is the outright star of French swimming and a real hope of multiple medals at Beijing 2008, but by the 21-year-old Olympic and world champion's own admission 2007 was a crazy year, crazy enough to cause deep concern.
At 17 Manaudou won the 400m freestyle gold at Athens and took home a silver from the 800m freestyle and a bronze from the 100m backstroke before winning a world gold at 400m the following year.
The pretty youngster soon made a considerable fortune lending her name and face to a wide range of products and there were four more gold medals (400m and 800m free, 100m back and 200m medley) at the 2006 Europeans.
2007 opened with a flourish when at the Melbourne world championships in March she grabbed gold in both the 400m and 200m free and silvers in the 800m free and 100m back. Clouds were gathering though as her romance with Italian swimmer Lucas Marin delighted photographers, who dogged the couple Down Under to catch them kissing and hugging.
Then with Beijing on the horizon Manaudou dropped a bombshell by splitting with her coach Philippe Lucas.
"I could no longer physically stand Lucas' training. At this rhythm, I would have exploded," she said of the man who had put her through a gruelling 10 miles (17km) per day.
Eyebrows were raised even further when she chose to relocate to Verona to be nearer Marin.
Italian misadventure
She joined the LaPresse Nuoto club in Turin but the Italian club sacked her in August, citing attitude problems, though it appears the spat was partly fuelled by a disagreement over an advertising contract.
After the rumpus in Italy, Manaudou returned to her family home in central France and said she would now be trained by her 21-year-old brother Nicolas. She made a triumphant return in Berlin in mid-November, reviving hopes for multi-gold in Beijing. She appeared relaxed and smiling, "more humane" according to some.
But the year ended with another bombshell.
At the European short-course championships in Debrecen, Hungary in December, she won gold in the 100m back and 400m free but grabbed headlines for casting off the ring Marin gave her in a bitter and ugly changing-room spat in front of other swimmers.
Shortly afterwards a series of lurid photos of a naked and compromised Manaudou appeared on the internet. Marin claims he had no part in this attack on her intimacy.
The sports community rallied behind Manaudou, who says she will be chasing at least one more Olympic title at Beijing, if she can withstand the pressure that will now accompany her every step.
in January 2008 she started full time training with French coach Lionel Horter.
Results
Copyright 2008 Agence France-Presse.