Yining Zhang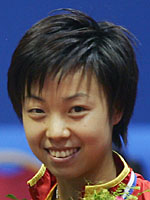 Yining Zhang
Date of birth

1981-10-05
Birthplace

Beijing
Height

167 cm
Weight

54.0 kg
Sport

Table tennis
World ranking

1st (2003), 2nd (1999, 2001, 2002), 3rd (2000)
Olympic Games (2 medals - 2 gold)
Singles : 1st (2004)
Womens' doubles : 1st (2004/with Wang Nan)
World Championships (15 medals - 9 gold, 2 silver, 4 bronze)
Singles : 1st (2005), 2nd (1999, 2003), 3rd (2001, 2007)
Womens's doubles : 1st (2003, 2005, 2007), 3rd (1999, 2001)
Teams : 1st (2000, 2001, 2004, 2006, 2008)
World Cup
1st (2001, 2002, 2004, 2005), 2nd (2006, 2007), 3rd (2003)
Yining keeps winning
China's Zhang Yining stepped out from behind the shadow of her best friend Wang Nan to join an elite few who have been world and Olympic champion and World Cup holder at the same time.
Olympic champion at Sydney in 2000, Wang had beaten Zhang in the 1999 world championship final and defended the title in 2001 while Zhang, four years her junior, came third.
After a brilliant 2002 season where she won the Asian Games singles title Zhang, tall and slim, was the number one seed at the 2003 world championships in Paris. Wang, short and stocky, however stormed to a 3-0 final lead before Zhang clawed her way back to 3-3.
That was when Wang transcended her form with a display of tournament winning aggression, leaving Zhang to learn a lesson in big match tactics, caution having got the better of her in the final, and digest a score of 11/7, 11/8, 11/4, 5/11, 6/11, 8/11, 11/5.
In tandem however, the pair cruised to women's doubles gold in Paris.
That narrow defeat was devastating for Zhang but has ultimately paid dividends in the intervening years seeing her take two Olympic medals, the World Cup and eventually the world championship title, putting her among an elite few to achieve the treble, including Wang and Deng Yaping.
"In the past years, I have experienced all kinds of difficulties. I finished with silver medals so many times. But defeats are not useless and they have become my assets," she said.
Dedicates Olympic win to coach
Ahead of the Athens Games she soon bounced back from the Paris defeat to retain the World Cup crown she had won two years earlier beating compatriot and left-hander Li Nan 11-9, 11-8, 11-3, 11-9.
At the Olympics in Greece Zhang and Wang took the women's doubles gold before Zhang won her second gold medal and China's 100th-ever with a commanding 11-8, 11-7, 11-2, 11-2 victory in the singles over North Korea's Kim Hyang-Mi.
Zhang, backed by a vocal crowd of Chinese supporters waving national flags, calmly counter-attacked and quickly broke down her rival's game for the victory.
The rake-thin 22-year-old blew kisses into the air and ran to hug her coach, Li Sin, before dedicating the medal to the man who has coached her since she was 13.
In 2005 in front of a worshipping crowd at the Shanghai Sports Gymnasium Zhang's tunnel-vision drive for world championship glory was never in doubt, and she diligently put paid to compatriot Guo Yan's dream in the final.
Although Zhang was a beaten semi-finalist at the 2007 world championships at Zagreb, Croatia she was number one in the women's rankings from January 2003 until January 2008 and will be the heavy weight contender at Beijing.
Results
Place
Event
Time/Score
Gold
Women's Singles Table Tennis
Final
Women's Singles Table Tennis
Final - Match: 1
4 (8, 13, 11, 11, 11)
Women's Singles Table Tennis
Semifinal - Match: 1
4 (9, 11, 12, 11, 11)
Women's Singles Table Tennis
Quarterfinal - Match: 1
4 (13, 12, 14, 12, 13)
Women's Singles Table Tennis
Round 4 - Match: 1
4 (11, 11, 11, 9, 11)
Women's Singles Table Tennis
Round 3 - Match: 1
4 (11, 11, 11, 11)
Copyright 2008 Agence France-Presse.