Emanuel Ginobili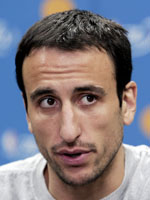 Emanuel Ginobili
Date of birth

1977-07-28
Birthplace

Bahia Blanca
Height

196 cm
Weight

95.0 kg
Position

Forward/centre
Clubs

Bahiense del Norte (1984-95), Andino de la Rioja (1995-96), Estudiantes Bahia Blanca (1996-98), Viola Reggio de Calabria (Ita/1998-2000), Virtus Bologne (Ita/2000-02), San Antonio Spurs (USA/since 2002)
International debut

30/07/1998, Argentina-Nigeria
Olympic Games (1 medal - 1 gold)
World championships (1 medal - 1 silver)
Americas championship
NBA championship
Winner (2003, 2005, 2007)
Euroleague
Winner (2001), finalist (2002)
Italian championship
Italian Cup
Other honours
Best player at Athens Olympics (2004)
Selected to NBA All-Star team (2005)
Basketball's Diego Maradona
As basketball becomes more and more global, South America now have their own superstar in the form of Argentina's Emanuel Ginobili, who has emerged to become a national idol in a country more familiar with kicking a ball rather than bouncing it.
His list of honours speaks for itself.
Olympic champion in 2004, world silver medallist in 2002, champion of the America's in 2001, MVP of the Euroleague with Virtus Bologna in 2001 not to mention three NBA titles in 2003, 2005 and 2007 with the San Antonio Spurs.
He was also the top player at the Athens Olympics, and best Euroleague player in 2001 ahead of the rapidly approaching Beijing Games where he will still only be 31.
The 1.96m centre has always been able to rely on his father who signed him up with his local team, Bahia Blanca and watched his every step all the way to the NBA.
His two brothers are also top players with Sebastian and Leandro playing professional bastketball in Argentina and Spain respectively.
At 18, he turned out for Andino de la Rijoa and made steady progress from there.
Called up to the national team, he also appeared at the 1998 world championships although Argentina could only manage a disappointing 8th place finish.
In the summer of 1998, he took the jump into European basketball and began an Italian chapter in his career at Reggio de Calabre from 1998 to 2000.
From there he moved to Virtus Bologna with whom he won his first major titles.
Winning spiral
His first season with them was exceptional, winning the Italian championship, the domestic cup and the Euroleague where he was also named the best player of the final phase.
A dream year was complete when he helped Argentina to the America's championship.
With all this success, it was only a matter of time before a top NBA club came along and it was the San Antonio Spurs who reacted quickest after spotting Ginobili at the world championships in Indianopolis where Argentina lost in the final to Yugoslavia.
With the Spurs, three NBA titles have followed and he was also named to the All Star team in 2005.
Argentina also won their first ever basketball gold at the Athens Games in 2004 and he has since been compared in his homeland to the great footballing legend Diego Maradona.
The 2006 world championships were less successful where Argentina were beaten by eventual champions Spain in the semi-finals, albeit one of the few negative points in Ginobili's glittering career.
Copyright 2008 Agence France-Presse.