Michael Jordan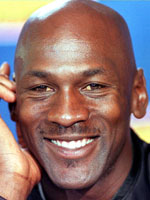 Michael Jordan
Date of birth

1963-02-17
Birthplace

New York
Height

198 cm
Weight

90.0 kg
Position

guard
Clubs

North Carolina University (until 1984), Chicago Bulls (1984-1993), Chicago Bulls (1995 - Jan. 1999), Washington Wizards (Sept. 2001 - April 2003)
Olympic Games (2 medals - 2 gold)
NBA
6 titles: (1991, 1992, 1993, 1996, 1997, 1998)
10 times top scorer (1987, 1988, 1989, 1990, 1991, 1992, 1993, 1996, 1997, 1998)
5 times Most Valuable Player in a season (1988, 1991, 1992, 1996, 1998)
6 times Most Valuable Player (MVP) in the NBA playoffs (1991,1992, 1993, 1996, 1997, 1998)
1 time top defender (1988)
13 All-Star Game selections (1985, 1987, 1988, 1989, 1990, 1991, 1992, 1993, 1996, 1997, 1998, 2002, 2003)
NBA records
32.292 points scored over his career (3rd highest in history)
30.1 points match average
69 points scored in one match (28/03/1990)
Other honours
1 University NCAA title (1982)
Shareholder and co-president of Washington Wizards (2000-2003)
Co-owner of Charlotte Bobcats (since June 2006)
Air Jordan
Michael Jordan played his last match in April 2003 at the age of 40, bringing the curtain down on what few could deny was the greatest basketball career of all time and which featured six NBA titles in eight years with the Chicago Bulls.
He also scored a remarkable total of 32,292 points, leaving him third overall behind leader Kareem Abdul-Jabbar and Karl Malone.
Jordan's scoring average of 30.13 points a game is the highest in NBA history, but he was also known for tenacious defense, being selected to the NBA All-Defensive Team nine times and ranking second on the all-time steals list.
In ten seasons Jordan was top NBA scorer and was five times awarded the 'most valuable player' tag.
At 90kg and standing 1.98m the New Yorker was far from being one of the games biggest men, but he was incredibly swift and agile and could leap in such a superhuman fashion he gave the impression of flight.
'Dream Team' with Bugs Bunny
He joined the Bulls from the draft of 1986 and was America's top scorer for the next seven seasons, by which time his number 23 Bulls shirt was being worn by fans across the planet, not to mention a certain brand of sports shoes he lent his ("Air Jordan") name to.
At the Barcelona Olympics of 1992 Jordan was perhaps the star of the "Dream Team" that featured Ervin 'Magic' Johnson, Charles Barkley and Larry 'the Legend' Bird after the IOC first allowed professional players to compete at what was traditionally an amateur event.
Needless to say the Americans encountered scant resistance to win the gold medal. It was Jordan's second such honour after he had led the American team out at Los Angeles in 1984, where he was also top scorer.
Jordan's first "retirement" was in 1993, but he was still part of the headlines trying his luck at baseball which ended tamely but this period in his life was marred by the murder of his father and gambling revelations that sometimes bordered on being obscene.
He came out of retirement in 1995 and won three more titles only to quit the game again in 1999, before making a return a year later as the Washington Wizards' top executive. He was back on the court 18 months later.
Jordan was the only Wizard to play in all 82 games in his final season, drawing sellout crowds at every venue.
"It has been a great relationship, like my best friend," Jordan said. "Sometimes you have to grow up and move away from your best friend but it's always going to be in my mind. Nothing is going to erase what I have attained by having basketball as a friend," he mused.
Copyright 2008 Agence France-Presse.