Allyson Felix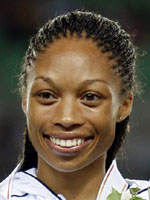 Allyson Felix
Date of birth

1985-11-18
Birthplace

Los Angeles
Height

166 cm
Weight

56.0 kg
Olympic Games (1 medal ---1 silver)
World Championships (4 medals -- 4 gold)
200m: 1st (2005, 2007)
4x100m: 1st (2007)
4x400m: 1st (2007)
No fear for Felix with Beijing battle looming
Double 200 world champion Allyson Felix will be the favorite when the competitors enter the blocks on the Olympic track in Beijing as the Los Angeles native aims to confirm her status as the top 200 runner in the world.
Narrowly beaten at the 2004 Games in Athens by Jamaica's Veronica Campbell, the American runner has since added the 200 world titles in 2005 and 2007 and is a key member of the relay teams where she has also picked up gold medals.
Her dominating run in Osaka in 2007 left 100-meter champion Campbell trailing in her wake but the Jamaican star still has that slight psychological edge, having won their duel in Greece.
Felix also achieved the rare feat of winning golds in the 4x100 and 4x400 races in Japan, which underlines her ability to maintain her speed over short or long sprints.
But with Beijing in view, Felix could only manage fifth place at the American Olympic trials in the 100 and will settle instead for a crack at gold in the 200 and relays.
Living up to potential
Based on the sun-kissed West Coast, she was already showing signs of her talent as a young student, winning California high school titles in 2002 at 100and 200 meters.
Quickly spotted by the American sports media, her stock rose even further when she was featured in publications as Sports Illustrated and USA Today before ever taking part at a major senior competition.
In 2003, she had risen to become the eighth-ranked runner in the world at 200 meters and a step up the big time was just around the corner.
Although she settled for silver at her first Olympic Games, one year later in Helsinki she hit the top with the world title during a 2005 season in which she established her credentials as the woman to beat.
The 2006 season was transitional with no major meetings but in the pre-Olympic 2007 season, she defended her world crown in style by easily beating Campbell in the searing Osaka heat.
She attends the University of Southern California and away from the track she likes to spend time with friends and watch a good film.
Results
Copyright 2008 Agence France-Presse.