Jeremy Wariner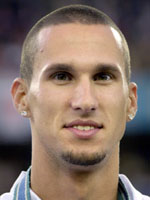 Jeremy Wariner
Date of birth

1984-01-31
Birthplace

Irving
Height

185 cm
Weight

70.0 kg
Discipline

400m, 4x400m relay
Olympic Games (2 medals -- 2 gold)
400m: 1st (2004)
4x400m relay: 1st (2004)
World Championships (4 medals -- 4 gold)
400m: 1st (2005, 2007)
4x400m relay: 1st (2005, 2007)
Texas Lone Star
American Jeremy Wariner has been the undisputed king of the 400 since winning at Athens 2004 with a stunning performance at just 20 years old.
Since then Wariner has won the 2005 and 2007 world titles in both the individual and relay and is the outright boss of this single-lap run as he edges ever closer to Michael Johnson's long-standing world record.
Johnson has become Wariner's agent and business advisor and wants his protege to beat the 43.18 record he set back in 1999. Both men were originally coached by veteran Clyde Hart and both studied at Baylor University.
"Jeremy has a clock in his head and he gets to certain points in the race at exactly the right time," says Hart, who guided Johnson to two Olympic titles.
As Wariner took control on the final bend to lead a 1-2-3 finish for the U.S. in Athens, many noticed the duck-like running style reminiscent of 1996 and 2000 Olympic champ Johnson.
World at his feet
At the 2005 world championships in Helsinki, Wariner repeated his Olympic achievement with a 400 and 4x400 double gold. And while at the Games he had run third, this time he was the anchor.
During the 2006 Golden League season he registered six straight wins in an undefeated season in which he massacred his rivals at the Rome meet with a breakaway 43.62.
He also picked up $250,000 in the form of gold bars for being one of three athletes to win all six races on the Golden League calendar. Jamaican sprinter Asafa Powell and American 400 runner Sanya Richards were the others.
He was back for the opening Golden League meeting in June 2008 but suffered a shocking defeat at the Olympic stadium in Berlin when he was just edged to the line in a thrilling race by his rapidly improving teammate Lashawn Merritt.
Merritt then inflicted a second defeat in the U.S. Olympic trials as Wariner got his tactics wrong, which many saw as the end of his domination and set the stage perfectly for what will be an epic slugfest for Olympic gold.
It was a far cry from the 2007 world championships in Japan when he won his second world gold by several meters with the third-fastest time ever at 43.45 as the Americans swept the 400 medals with Merritt and Angelo Taylor taking second and third.
The guy with the trademark wrap-around shades, gold chain and diamond earrings has only the world record missing from his honors but it promises to be an explosive race on the Olympic track in China.
Results
Copyright 2008 Agence France-Presse.