Pertti Karppinen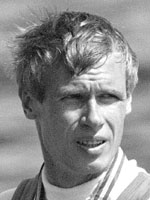 Pertti Karppinen
Date of birth

1953-02-17
Birthplace

Vehmaa
Height

201 cm
Weight

105.0 kg
Discipline

single sculls, double sculls
Olympic Games (3 medals - 3 gold)
Single sculls: 1st (1976, 1980, 1984)
World Championships (6 medals - 2 gold, 3 silver, 1 bronze)
Single sculls: 1st (1979, 1985), 2nd (1977, 1986), 3rd (1987)
Double sculls: 2nd (1981)
An historic rowing triple
By winning the single sculls gold medal at the 1984 Olympic Games in Los Angeles, the bespectacled Finnish giant, Pertti Karppinen, effectively completed an historic treble that only one other rower, the Soviet Viatcheslav Ivanov, managed to record before him.
At the Montreal Games in 1976, the fireman from the city of Parsio created general surprise when he pulled ahead of Peter Michael Kolbe in the final standings, relegating the West German title-holder to second place and winning his country's first ever rowing Olympic gold.
Although having placed 2nd in the world championships two years previously, the Finn did not figure among the pre-race favourites in Montreal. Indeed, 500m into the skiff final, Karppinen, sat in 5th place and more than six seconds behind Kolbe.
But nearing the 1000m mark the big Finn launched an amazing comeback and, 500m further on, passed three of his adversaries, although still finding himself sitting 5 seconds behind Kolbe.
In the final 200m the battle between both men reached its climax as the Finn glided past Kolbe 100m from the finish line to take victory and his first Olympic gold.
Triple delight in Los Angeles
In 1977, Karppinen came 2nd in the world championships behind Kolbe, but took his revenge by beating the West German two years later.
In Moscow the anticipated duel between both rowers failed to materialise because of West Germany's decision to boycott and Karppinen was left to lift his second consecutive Olympic gold.
Four years later, Kolbe arrived in Los Angeles once more as the reigning world champion. As in Montreal, Karppinen experienced a bad start but, again, like his 1976 exploit, he came from nowhere to pull level with his rival at the 1750m mark and finally took over with 25 metres to spare.
Although Karppinen only managed a seventh place at the Seoul Games in 1988, Kolbe regained some Olympic glory on his old rival - by taking another silver.
Copyright 2008 Agence France-Presse.