Eamon Sullivan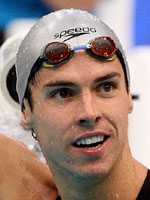 Eamon Sullivan
Date of birth

1985-08-30
Birthplace

Perth
Height

188 cm
Weight

78.0 kg
Disciplines

50m and 100m freestyle, relay
World records

3 (50m freestyle - 28/03/2008)
Olympic Games
4x100m freestyle relay: 6th (2004)
World Championships (2 medals - 1 gold, 1 bronze)
100m freestyle : 3rd (2007)
4x100m medley relay: 1st (2007)
Commonwealth Games (2 medals - 1 gold, 1 silver)
4x100m freestyle relay : 2nd (2006)
4x100m medley relay: 1st (2006)
The silent assasin
Aussie Eamon Sullivan stepped into the spotlight when he smashed Alexander Popov's long standing 50m freestyle record in 2008, making him one of the men to watch at the Beijing sprints.
"The silent assasin", as Sullivan likes to call himself, stopped the clock at 21.56sec over 50m in February of the Olympic year, cutting eigth hundredths of a second from Popov and launching a record breaking duel with French rival Alain Bernard.
The Frenchman grabbed a European 50m gold medal with his own world record on March 23 with a time of 21.50sec, but Sullivan struck back just four days later with a 21.41 and a day later cut even deeper with a time of 21.26sec.
Sullivan will give Bernard a run for his money in the 100m too. The Australian is less robust than his main rival - 1.88m for 76kg to the Frenchman's 1.96m and 87kg - but he is just two hundredths of a second off Bernard's world record 47.50sec over two lengths of the pool.
Sullivan and Bernard's techniques vary greatly, with the lighter Sullivan skimming across the top of the water compared with the Frenchman's raw, churning power and faster stroke-rate.
The Olympic final promises to be a thriller, if you throw into the mix former world record holder Pieter van den Hoogenband and anyone else who may appear from the woodwork.
Injury agony
Sullivan will be taking part in his second Olympiad at Beijing after a sixth place finish in the 4x100m freestyle relay at Athens just ahead of his 19th birthday.
That's when an injury nightmare began with three hip operations, and when rib and ankle problems also set in, he considered quitting the pool.
But patience and long hours of practice eventually paid off with a gold medal at the Commonwealth Games in the 4x100m medley and a silver in the 4x100m freestyle relay.
A year later at the 2007 worlds, he took his first major individual medal with a bronze in the 100m free, a hairsbreadth behind Italy's Filippo Magnini and Canada's Brent Hayden who finished in a dead heat for gold.
He can console himself with the memory that a few days later he was part of the Australian 4x100m medley relay team that took the world title.
Out at Beijing, Sullivan will be in good company as his girlfriend is Australian swimmer Stephanie Rice, who broke world records in the 200m and 400m medleys in 2008.
Results
Copyright 2008 Agence France-Presse.