Sawao Kato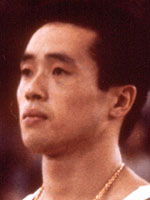 Sawao Kato
Date of birth

1946-10-11
Birthplace

Niigata
Height

156 cm
Weight

59.0 kg
Discipline

gymnatics
Olympic Games (12 medals - 8 gold, 3 silver, 1 bronze)
All-around: 1st (1968, 1972), 2nd (1976)
Teams: 1st (1968, 1972, 1976)
Floor: 1st (1968)
Pommel horse: 2nd (1972)
Rings: 3rd (1968)
Parallel bars: 1st (1972, 1976)
Horizontal bar: 2nd (1972)
World Championships (1 medal - 1 gold)
A leading light in Japan's gymnastics revolution
For a child who showed little sign of sporting prowess, Sawao Kato certainly left an impressive legacy.
In school he was studious and enthusiastic. When it came to the physical education classes however, he was not especially eager.
Yet in the gym, Kato was drawn to the horizontal bar, and was soon applying his normally studious work ethic to the apparatus. Before long, he was regularly competing and at 18 he won the 1964 Niigata youth championships.
As it transpired, Kato, the son of a railway engineer, would step up through the grades of his Tokyo Kouiku university club and national championships to eventually become Japan's most recognised and successful Olympian.
Yet, Japan's hugely successful teams and individuals during the period 1960-1976 had one common denominator - they had all been trained by Akitomo Kaneko.
It was through Kaneko's guidance that Kato would shine, although Kato retained his own desire to add a new dimension to the sport and his use of the trampoline as a creative tool is well documented.
Strength in versatility
The Olympic records speak for themselves, but in Mexico, Kato's bravery through a career-threatening Achilles injury gave the world of gymnastics a true indication of his greatness.
Following injury he returned to record victory in Munich in 1972 - becoming only the third gymnast, after Alberto Braglia (1908/1912) and Victor Chukarin (1952/1956), to win two consecutive all-around titles - and in Montreal in 1976 Kato only lost out on a third consecutive all-around title by one point.
At those same Games at the age of 29, Kato took his final bow in front of 16,500 spectators after taking the parallel bars title.
With a degree from the Sports University of Tokyo, Kato is currently an Associated Professor at Tsubuka University and, up until May 1998, was vice-president of the technical committee of the International Gymnastic Federation.
Copyright 2008 Agence France-Presse.