Filippo Magnini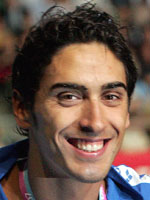 Filippo Magnini
Date of birth

1982-02-02
Birthplace

Pesaro
Height

186 cm
Weight

75.0 kg
Disciplines

100m and 200m freestyle, freestyle relay
Olympic Games (1 medal - 1 bronze)
100m : 5th (2004)
4x200m : 3rd (2004)
World Championships (3 medals - 2 gold, 1 silver)
100m : 1st (2005, 2007)
4x100m : 2nd (2007)
European Championships (11 medals - 7 gold, 1 silver, 3 bronze)
100m : 1st (2004, 2006), 3rd (2008)
200m : 3rd (2004, 2006)
4x100m : 1st (2004, 2006), 2nd (2008)
4x200m : 1st (2004, 2006, 2008)
World short course championships (7 medals - 2 gold, 3 silver, 2 bronze)
100m : 2nd (2006, 2008)
200 m : 2nd (2006), 3rd (2008)
4x100m : 1st (2006)
4x200m : 1st (2006), 3rd (2008)
European short course championships (10 medals - 6 gold, 2 silver, 2 bronze)
100m : 1st (2005, 2006), 2nd (2003, 2004), 3rd (2007)
200m : 1st (2004, 2005, 2006, 2007)
4x50m : 3rd (2006)
The Ultimate Crown
The double 100m freestyle world champion, Italy's Filippo Magnini, is desperate to win the Olympic title in Beijing where he knows however the struggle will be ferocious.
At the 2004 Games when aged 22 he came fifth in a classic final at Athens where, placed in the lane besides eventual runner up South African Roland Schoeman, who made the early pace and left the Italian trailing by almost a length, Magnini finished in 48.99sec to Dutchman Pieter van den Hoogenband's winning 48.17.
Magnini also went home with a bronze medal from the 4x200m freestyle relay. The two experiences served him well as he built upon his triple gold at the 2004 Europeans when lifting the 100m world crown at the Montreal world championships of 2005 with a chrono of 48.12sec.
Van den Hoogenband didn't take part at Montreal, but with the second fastest 100m free time ever, and becoming the first Italian to ever hold the title, the exhuberant Magnini had a crown tatooed on his left inside bicep. Those biceps were put to good use again at the 2006 Europeans when he defended his triple crown of 100m, 4x100m and 4x200m freestyle titles.
At the 2007 worlds in Melbourne, Magnini had to share the gold with Canada's Brent Hayden after the two finished on 48.43, with Australia's Eamon Sullivan in third and Schoeman and Van den Hoogenband down the rankings.
So what is left for Magnini to justify the crown tattoo is the Olympic title. But standing in is way are several young pretenders, chief amongst them is France's monsterous Alain Bernard with his world record 47.50sec and the Australian Eamon Sullivan, holder of the 50m world record at 21.28sec.
Mud slinging
There's already been a little controversy between Magnini and the muscle-bound Frenchman after his Italian rival suggested that Bernard must have been taking the right vitamins, perhaps the new world record was a bitter pill for him to swallow.
He was apparently a very active child who loved his sports starting with roller-skating aged four, but he also enjoyed football, tennis and basketball. But to build him up to better play soccer it was suggested he be put in a pool, and it was there that he discovered his great passion.
He left for Turin in 2001 where he has been coached to greatness by Claudio Rossetto, the last hurdle to true greatness though will come at the Olympic pool in Beijing where his experience may overcome the thundering power of the Frenchman.
Results
Copyright 2008 Agence France-Presse.