Kip Keino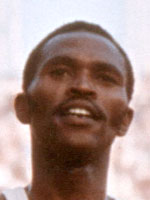 Kip Keino
Date of birth

1940-01-17
Birthplace

Kipsano
Height

170 cm
Weight

68.0 kg
Discipline

middle distance
World Records

2 (3000m, 5000m)
Olympic Games (4 medals - 2 gold, 2 silver)
1500m: 1st (1968), 2nd (1972)
5000m: 2nd (1968), 5th (1964)
3000m steeple: 1st (1972)
Commonwealth Games (4 medals - 3 gold, 1 bronze)
1500m: 1st (1970)
5000m: 3rd (1970)
1 mile: 1st (1966)
3 miles: 1st (1966)
Running on instinct
Kipchoge Keino was the man responsible for leading the Kenyan charge in international middle distance running, revolutionising technique and style with his own individual stamp of authenticity.
In direct opposition to Paavo Nurmi's planned scientifically-led method, Keino affirmed his sole wish to "run as fast as possible, with the most rhythm, no matter what the distance".
Keino's first appearance at the Olympic Games however ended in near-failure, finishing 5th in the 5000m in 1964.
The following year, during a European tournament, he recorded unbelievable times of 3:36.5 in the 1500m, 3:54.2 in the mile, 7:39.6 in the 3000m (world record) and he also established the 5000m world record of 13:24.2.
When the Mexico Olympics arrived, Keino was not quite feeling himself - indeed, he seemed to be in pain.
It was later discovered a bladder infection was to blame. Despite this, he entered the 1500m, 5000m and 10,000m. During the 10,000m these pains returned to haunt him just two laps short of the distance and he fell. Disqualification, he knew, was inevitable, but he got up to finish the race.
Tactical mistake in Munich
Four days later, he finished second in the 5000m and won the 1500m, despite running 1.5km beforehand to reach the stadium after his car was caught in a traffic jam.
The same day in Kenya, his wife Phylis gave birth to their third daughter who they named Milka Olympia Ghelagat, in honour of her father's feat.
In Munich in 1972 a tactical error cost him the 1500m title and he finished in second place behind Finland's Pekka Vasala while a memorable photo of the two men in battle flashed round the world.
In the 3000m steeple however, revenge was his and he dominated his compatriot Ben Jipcho.
After a short time in the world of professional racing, Keino returned to his native country to take over the national team. In recognition of his alleviation from his own unfortunate start to life (he was an orphan) he opened a home for local orphans.
Named African athlete of the 20th century, he now carries out his duties as the president of Kenya's Olympic Committee.
Copyright 2008 Agence France-Presse.