Brendan Hansen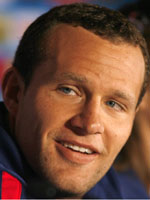 Brendan Hansen
Date of birth

1981-08-15
Birthplace

Havertown
Height

182 cm
Weight

85.0 kg
Disciplines

50m, 100m, 200m breaststroke
World records

6 (100m, 200m breaststroke, 4x100m medley relay)
Olympic Games (3 medals: 1 gold, 1 silver, 1 bronze)
100m breastroke 2nd (2004)
200m breaststroke: 3rd (2004)
4x100m medley: 1st (2004)
World championships (8 medals: 5 gold, 2 silver, 1 bronze)
50m breaststroke: 2nd (2007)
100m breaststroke: 1st (2005, 2007) 2nd (2003)
200m breaststroke: 1st (2001, 2005), 3rd (2003)
4X100m medley: 1st (2003)
Breaststroke speed king gets second chance
Brendan Hansen went to Athens with world record times in the 100m and 200m breaststroke but lost an Olympic war of nerves with his great Japanese rival Kosuke Kitajima.
Four years prior to Athens, Hansen suffered more Olympic heartbreak by narrowly failing to qualify for Sydney 2000. But a year later he won a 200m world breaststroke crown at Fukuoka, Japan.
"It has been my event since I was a little kid. It's my favourite event," he said at the time.
At the 2003 world championships in Barcelona however, the raw power of Kitajima was on full display and the Japanese man's come from behind win over Hansen in the 100m breaststroke final was stunning, described by the American's coaches as the fastest finish they'd ever seen.
Kitajima also won the 200m as Hansen slipped to bronze before a consolatory gold in the 4x100m medley.
But the Pennsylvanian went away and tweaked his style, setting fresh world records in July 2004 at both distances.
Both men were way off the world mark at Athens in 2004 as Hansen seemed to wither in Kitajima's shadow on the big stage, again leading then losing in the 100m breaststroke and only taking bronze in the 200m as Kitajima soaked up double gold glory.
Kitajima then regained the 200m world mark in June 2008 when he shaved .99secs off Hansen's previous best.
Reference point
Four years on and the two men's stories are still inextricably linked, their post Olympic paths having been determined one by defeat and the other by having won it all.
Hansen went away committed to make amends and started that process at the 2005 world championships by seizing both golds. His momentum seemed to accelerate and in August 2006 he set three world records, twice in the 200m, best time 2min 08.50sec, and once in the 100m; 59.13sec.
Kitajima left Athens exhausted, complaining his joints were bent to breaking point and therefore cutting down on training.
But by the 2007 worlds at Melbourne he was back in some kind of shape and as Hansen powered to 100m gold his first 50m surge had been powerful enough to resist Kitajima's fabled late burst, which earned him silver 0.18 sec adrift of the American.
Hansen had also sped to silver in the 50m breaststroke, where Kitajima was 4th.
Complaining of a stomach virus, Hansen did not take part in the 200m, allowing Kitajima to claim gold there, leaving the honours on Australian soil even.
Hansen will have to settle for a crack at the 100m race after suffering a shock failure to qualify for the 200m event during the US Olympic trials.
The stage is set and if both men are fit and on form, the fabulous 'Cube' pool at Beijing will host a thrilling showdown between the two rivals in August 2008.
Results
Copyright 2008 Agence France-Presse.