Rebecca Romero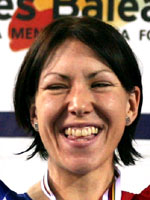 Rebecca Romero
Date of birth

1980-01-24
Birthplace

Twickenham (England)
Height

182 cm
Weight

74.0 kg
Disciplines

rowing -quadruple sculls; track cycling - 3km pursuit
Rowing
Olympic Games (1 medal: 1 silver)
Quadruple sculls: 2nd (2004)
World Championships (1 medal: 1 gold)
Quadruple sculls: 1st (2005)
Track cycling
World championships (3 medals: 2 gold, 1 silver)
3km individual pursuit: 1st (2008), 2nd (2007)
3km team pursuit: 1st (2008)
A bend in the river
When Britain's world champion Rebecca Romero got so fed up with rowing she quit at just 26, a chance phone call propelled her into track cycling and a new world championship gold in a new sport in the Olympic year.
At Beijing, she has every chance of becoming only the second woman in history to win Olympic medals at two separate summer sports if she can follow her 2004 quadruple skulls rowing silver, with a medal in cycling's 3km individual pursuit.
She started rowing at 17 when her family moved near the Thames river at Twickenham and she enjoyed a swift progression through the British junior, under-23 and senior squads, finding herself heading for Athens in the quadruple skulls team that were beaten into silver by Germany.
A year later she had been promoted to key rower and race reader when Britain gained revenge on Germany by beating them narrowly to claim the 2005 world title.
Then a back injury lay off gave her time to reflect on how unhappy she was in the sport she describes as over regimented and robotic. The upshot was she quit to start a career in marketing.
However in March 2006, British cycling coach Dan Hunt called to offer her a trial at the Manchester velodrome, after which she was told she may have a future and was offered a six-month paid trial period.
World champion after just one year
A month before that period ended, she became British time-trial champion in her first ever competitive race. She loved cycling and felt a newfound freedom and joy in it.
She had only been in cycling a year when she travelled to Mallorca, Spain for the 2007 worlds, which she describes as a magic time when all the pieces started to come together and where she won a silver medal in the 3km individual pursuit.
A year later her home club hosted the world championships where two years after first climbing on the five-spoke track bike, Romero overpowered Sarah Hammer of the United States to win the 2008 world individual pursuit title.
She lay awake half the night with a big grin on her face and went into the team pursuit the following day with the adrenalin of victory still pumping through her.
Along with Wendy Houvenaghel and Joanna Rowsell in only their second competitive race together, they powered to the 3km team pursuit title too, ahead of the Ukraine.
She speaks passionately about cycling, the nerves and excitement, the wild acceleration of the first lap.
And if she can carry that enthusiasm to Beijing it will take something very special to stop her quest for a second Olympic medal.
Results
Copyright 2008 Agence France-Presse.