Keiji Suzuki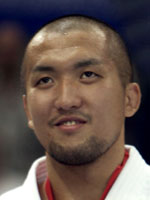 Keiji Suzuki
Date of birth

1980-06-03
Birthplace

Joso
Height

184 cm
Weight

100.0 kg
Category

Under 100 kg
Olympic Games (1 medal - 1 gold)
Heavyweight (over 100kg): 1st (2004)
World Championships (2 medals - 2 gold)
Under 100kg: 1st (2005)
Open category: 1st (2003)
King of the heavyweights
Put simply Japan's Keiji Suzuki will head to Beijing with the reputation as the world's finest judoka because whatever the weight category in which he competes, he wins.
He explored this concept with a 2003 world crown in the open category, followed with the Olympic heavyweight title (+100kg) in 2004 and the world light-heavyweight title (-100kg) in 2005, when he was still just 25-years-old.
As such he is the only man to have won world level titles in all three of those categories.
In his native Japan, fans don't care much about weight. They just want to know who would win. So when at the all important national open weight event of 2004 he floored incumbent kingpin Kosei Inoue, Suzuki stole the ascendancy.
As it stands, it is for his exploit in the top weight category at the Athens Olympics for which he is most highly hailed in Japan, for having brought the prestigious heavyweight title home for the first time in 16 years - previously won by Hitoshi Saito at the 1988 Seoul Games, Georgia's David Khakhaleichvili in 1992 and French great David Douillet at Atlanta and Sydney in 1996 and 2000 respectively.
Inoue meanwhile, in the under 100kg category, had a bad day at the Games in Greece and suffered a shock defeat in the quarter-finals before announcing he would switch up a category while Suzuki, conversely, changed down one.
Sweep
This category ballet would suggest Suzuki was by then Japan's natural first choice for the under 100kg, and it also kept two potential gold medallists apart.
Out on the mat Suzuki frequently looks like the smaller fighter but his simple and brilliantly pure style allowed him, for example, to win the Olympic final with a subtle foot-sweep after a single minute against Russian opponent Tamerlan Tmenov. It was a feat almost never seen at that weight.
In fact Suzuki enjoys a combination of speciality foot or hip moves that allow him to unbalance even the most experienced men due to to his explosive turns of speed.
On home territory he was runner-up to Satoshi Ishii in the all Japan Judo championships of 2006 in the open category but won the Japanese national championships in 2007 at the under 100kg category.
But disaster struck him at the 2007 world championships when he was eliminated in the second round at Rio, failing to make direct qualification for the 2008 Games and needing the points system to book Japan's berth at the under 100kg category for the Olympic Games.
A second Olympic title at Beijing in 2008 would clear that blemish and elevate him toward the legend status enjoyed by his compatriot Yasuhiro Yamashita.
Results
Copyright 2008 Agence France-Presse.