Fei Cheng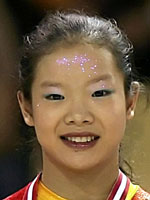 Fei Cheng
Date of birth

1988-05-29
Birthplace

Huangshi
Height

140 cm
Weight

32.0 kg
Discipline

vault, floor
Olympic Games
World Championships (6 medals - 5 gold, 1 silver)
Team event: 1st (2006), 2nd (2007)
Vault: 1st (2005, 2006, 2007)
Floor: 1st (2006)
Asian Games (2 medals - 2 gold)
Vault: 1st (2006)
Floor: 1st (2006)
The one and only Cheng Fei
The revolutionary Cheng Fei is one of the greatest female gymnasts ever produced by China and has a highly daring vault that bears her name.
Her specialities are the vault and floor which are generally weak areas for the Chinese and at Melbourne in 2005, she became the first woman from her country to land the world title in the vault.
This came one year after the Athens Olympics where she agonisingly finished just out of the medals on the floor, although her scores were loudly booed by the Greek crowd who thought she had been robbed.
After the scoring controversy that marred the gymnastics competition in Greece, you can bet she will get a fair shake in Beijing where the partisan crowd will hardly accept a similar scenario.
The breakthrough in Melbourne evidently injected a massive boost of confidence into her expanding repertoire and she went to the 2006 world championships as one of the hot favourites.
She didn't disappoint in the Danish city of Aarhus where she successfully defended her vault title, added the floor gold with a mesmerising routine and led China to the team gold as well.
Cheng was China's star performer at the 2007 world championships with a third straight gold in the vault as many of her compatriots underperformed. She had to settle for silver in the team event but her career total of five golds now makes her the most successful female gymnast in China's history.
The most difficult vault ever
Born in May, 1988 in Huangshi in the province of Hubei, she took up the sport as a slightly built six year old following the trend in China where athletes are groomed for stardom from a young age.
She was on the national team at 13 and has won national titles on the floor.
Her weak point however in her bid for the overall crown is her lack of competitive experience on the uneven bars and her quality on the beam.
To add to her mystique she has pulled off an almost never seen move by performing a double twisting back somersault on the floor and she is the only gymnast to perform two vaults valued at the maximum start value of 10.0.
On top of that during her winning display at the 2005 worlds, she became the first gymnast to land a laid out Khorkina. In other words, a round-off, half-turn onto the vault followed by a 540-degree twist in the laid out position.
It has been described as the most difficult vault ever attempted by a woman and in her honour now carries the name of "The Cheng".
Results
Copyright 2008 Agence France-Presse.