Wei Yang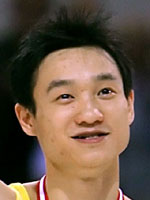 Wei Yang
Known as

Wei Yang
Date of birth

1980-02-08
Birthplace

Hubei
Height

160 cm
Weight

55.0 kg
Discipline

All-around, parallel bars
Olympic Games (2 medals -- 1 gold, 1 silver)
All-around: 2nd (2000)
Teams: 1st (2000)
World Championships (10 medals -- 7 gold, 1 silver, 2 bronze)
All-around : 1st (2006, 2007), 2nd (2003)
Teams: 1st (1999, 2003, 2006, 2007)
Vault: 3rd (2002)
Parallel bars: 1st (2006)
High bar: 3rd (1999)
Asian Games (10 medals -- 7 gold, 2 silver, 1 bronze)
All-around: 1st (2002, 2006), 2nd (1998)
Teams: 1st (2002, 2006)
Floor: 1st (1998), 3rd (2002)
Rings: 1st (2006)
Vault: 2nd (2002)
Parallel bars: 1st (2006)
Yang looking to show the way for China
After the drama of Athens 2004, the batttle for gold in the gym at Beijing promises to be an epic affair with China's 2006 and 2007 world all-around champion Wei Yang aiming to finally claim the coveted all-around Olympic title.
Silver medalist at Sydney in 2000, the gold was his for the taking in Athens before a dramatic fall from the high bar saw his hopes shattered and opened the way for Paul Hamm to make history for the United States while South Korea cried foul over the judging controversy that denied Yang Tae-Young.
Already an established star in Asia and the most decorated gymnast in Asian Games history, the slightly built man from Hubei stamped his authority on the world stage in 2006 with a dominant showing that lifted him to three gold medals, including the all-around title.
Now with massive hopes pinned on the 2008 China team, Wei Yang must not only cope with the challenge of his rivals but also the pressure that is certainly set to play a factor in who takes home the gold.
Individual crown at last
Born in 1980, Yang is something of a veteran by gymnastics standards and won his first of four world team titles back in 1999.
Evidence of his potential became clear when he also picked up a bronze on the high bar and finished fourth in the floor event.
A quiet spell in his career followed before an epic battle against Hamm at the 2003 world championships where home advantage arguably played a factor for the American on home turf in Anaheim, Calif.
Hamm pulled off a stunning routine on the high bar with Yang set for the gold but the American held his nerve to win the first men's all-around world title for his country.
Wei Yang went to Athens determined to make amends but his high bar disaster meant he had to settle for a lower placing and the China team also collapsed to finish out of the medals in the defense of their title won at Sydney.
After his individual misery at recent major events, it all came right in 2006 when the world championships were held in the Danish city of Aarhus.
He achieved the highest scores on three apparatus -- the pommel horse, vault and parallel bars before playing it safe on the high bar to land his long awaited individual crown.
In 2007 Yang survived another spectacular fall from the high bar to win a second straight world all-around title in Stuttgart, Germany.
The veteran had looked to be coasting to victory, scoring highest on three of the six apparatus -- pommel horse, rings and parallel bars.
But on the final apparatus his fall saw him achieve the second-lowest mark in the 23-man field, although he just held on to his lead to win gold ahead of Germany's Fabian Hambuechen and Japan's Hisashi Mizutori.
Copyright 2008 Agence France-Presse.