Beth Tweddle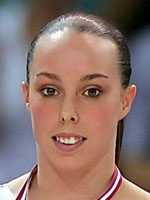 Beth Tweddle
Date of birth

1985-04-01
Birthplace

Johannesburg (South Africa)
Height

160 cm
Weight

53.0 kg
Discipline

uneven bars, floor
World Championships (3 medals - 1 gold, 2 bronze)
All-around: 4th (2005)
Uneven bars: 1st (2006), 3rd (2003, 2005)
European Championships (5 medals, 1 gold, 3 silver, 1 bronze)
Uneven bars: 1st (2006), 2nd (2004), 3rd (2002)
Floor: 2nd (2007, 2008)
Commonwealth Games (3 medals, 1 gold, 2 silver)
Team event: 2nd (2002)
All-around: 2nd (2002)
Uneven bars: 1st (2002)
Tweddle gives Britain much needed gymnastic joy
The emergence of history making Beth Tweddle has suddenly put British gymnastics on the map and there is now major optimism for a first ever Olympic gold in this sport for the previously starved European nation.
The charismatic but modest Tweddle has already carved out her own piece of national history when she became the first British gymnast to win a world gold by swinging to the uneven bars title in 2006.
The bars are her speciality and her progress towards the pinnacle of her sport has been steady and sure since taking up the sport albeit reluctantly at the age of 7.
However her potential became reality in the northern Danish city of Aarhus in 2006 when she hit paydirt with a brilliant routine in the final that gave her the prestigious world title ahead of American defending champion Anastasia Liukin and 15-year-old starlet Vanessa Ferrari of Italy.
"All my hard work has finally paid off and I'm absolutely ecstatic," she beamed afterwards.
Rightly so, considering she fell in the qualifying round but a clean run in practice on the morning of the final boosted her confidence and the rest is, as they say, history.
There's a new celebrity in town
Born in Johannesburg in 1985 whilst her parents were stationed in South Africa, her family moved back to Britain when she was 18 months old and lived in the north of England near Crewe.
She originally took up the sport after being encouraged by her parents but her early coaches soon spotted her skills and after making the British junior team she moved to the City of Liverpool club where she remains today.
In a city made famous by 'the Beatles' and its football, Tweddle has now added another feather to its heritage with her magic in the gym.
She became the 2002 Commonwealth Games champion in her event in Manchester and picked up the bronze in the always competitive European championships the same year while just 17.
Coached by former British Olympian Amanda Kirby, Tweddle went on to win a pair of bronze medals at the 2003 and 2005 worlds sandwiched around a silver at the 2004 Europeans.
Initially her biggest victory was winning the European crown in April 2006, another first for a Brit before her global breakthrough in October the same year made her a superstar and placed her third in the voting for Britain's sports personality of the year behind equestrian star Zara Phillips and golfer Darren Clarke.
She is now Britain's most successful gymnast ever by a long chalk.
Following her best year ever in the gym she said: "I would like to say thank you to everyone who has helped me over the past year to achieve my dreams. I didn't think they would ever come true but they did".
She has already met Queen Elizabeth and British Prime Minister Tony Blair but next up is Beijing in 2008 when she can take her stature to even higher levels in the Chinese capital when the Olympic Games hit the world stage.
It will probably be her last major competition as she plans to return to university studies after Beijing.
Results
Copyright 2008 Agence France-Presse.