Vladimir Kuts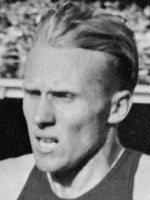 Vladimir Kuts
Date of birth

1927-02-07
Birthplace

Soumskaļa (Russia)
Height

172 cm
Weight

70.0 kg
Discipline

middle distance
World Records

8 (3 miles, 5000m, 10,000m)
Olympic Games (2 medals - 2 gold)
5000m: 1st (1956)
10,000m: 1st (1956)
European Championships (1 medal - 1 gold)
Sea legs find comfort, and success, on land
The Ukrainian-born runner Vladimir Kuts was the first male athlete to win an Olympic gold medal for the Soviet Union, in fact claiming the 5,000 and 10,000m titles at the Melbourne Games.
The man who began running following a spell in the Soviet navy would end his career running epic duels against some of the world's most illustrious athletes.
Kuts' pre-Olympic history is made up of two athletically-conducive parts: talent and adaptability.
Already familiar with boxing, weightlifting, swimming, long-distance skiing and rowing, Kuts landed in port and stayed long enough to enroll at a teaching college, first in Leningrad, and later in Moscow.
Setting his sights
At the age of 21, he had a gruelling training program of stretching and running on the balls of his feet while in springtime he was forced to run wearing several pullovers to rid himself of the extra weight he had accumulated during the winter.
Having already attempted and achieved a world record time of 28:30.4 for the 10,000m in front of 100,000 spectators in Moscow, Kuts competed in an England-Soviet confrontation in London only one month after a stomach ulcer operation. In a time of 29:13.2, he again took first place.
In time, Kuts would race against the biggest names of the track - including Czechoslovakia's Emil Zatopek and Britain's Gordon Pirie. But for his training prior to the 1956 Games in Melbourne there was only one competitor - the clock.
Kuts' time-training methods were put to good use in Melbourne. He won the 10,000m and 5000m with ease.
His next few years were spent winning, ceding and regaining titles and records in the 5000m and 10,000m against such athletes as Chris Chataway, Sandhor Iharos and Pirie before he eventually decided to take the post of Soviet national coach in 1958.
However, severe training methods had taken their toll and in 1960 he suffered his first heart attack. Finally, his fourth heart attack proved fatal and he died on August 17, 1975 at the age of 48 in Moscow.
Copyright 2008 Agence France-Presse.