Lionel Messi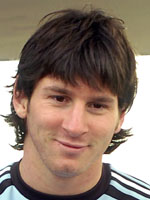 Lionel Messi
Date of birth

1987-06-24
Birthplace

Rosario
Height

170 cm
Weight

65.0 kg
Position

Striker
Clubs

Barcelona (Esp/since 2005)
International appearances

30
International goals

9
International debut

17/08/2005, Hungary-Argentina (1-2)
Last international appearance

18/06/2008, Brazil-Argentina (0-0)
First international goal

01/03/2006, Croatia-Argentina (3-2)
Last international goal

04/06/2008, Argentina-Mexico (4-1)
Playing honours
International

World Cup: quarter-finals (2006), 1 appearance, 3 matches, 1 goal
Copa America: finalist (2007), 1 appearance, 6 matches, 2 goals

Club

1 Champions League (2006)
2 Spanish Championships (2005, 2006)
2 Spanish Supercups (2005, 2006)
Other honours
Under-20's World Cup: winner (2005), voted best player and was top scorer
The son of the hand of God?
The Messiah, the Atomic Flea and Maradonita are just three of the many nicknames already given to Lionel Messi and the last one suits him rather well, given that like Diego, he is an Argentine, small, sturdy and above all divinely talented.
At just 21, Messi is one of the world's best footballers and because of him the Olympic soccer tournament will attract extra attention.
With his club Barcelona or with the national side, Messi's high speed dribbling and stunning close control is what makes opposing defences sweat and spectators crane their necks, and again like Maradona, a low centre of gravity gives an unearthly feel to his runs.
His touch, vision, movement and shots are all out of the top drawer too, the only question mark is over his fitness as he has suffered a series of thigh muscle tears as he embarks on his explosive stop-start runs.
He was born in Rosario but the Messi family moved to Barcelona when he was a teenager and when he joined the youth team they put the tiny boy on a growth hormone programme.
At 16, Messi was good enough to make his first team debut at the opening match at Porto's Dragao stadium and in October 2004 he got his league debut against Espanyol. Few are the players who a month prior to their eighteenth birthday celebrate a Spanish league championship, but that was just the start for little Lionel.
Red card debut
That season, he also helped Argentina to the Under-20 World Cup where he was top scorer and was voted player of the tournament. It was at that point, the summer of 2005, that Barcelona extended his contract until 2014.
In August he was given his international debut when sent on as a late substitute against Hungary only to be sent off after three minutes.
The following season he was a regular as Barcelona seemed to find a magic formula with Messi considered equal to Ronaldinho, Deco and Samuel Eto'o as they cruised to a league title and the Champions League final, though Messi himself missed the win over Arsenal through injury.
That summer Messi was one of the names on everyone's lips as the global spotlight turned to the 2006 World Cup in Germany. He became the youngest Argentine to play at a World Cup with three games and a single goal in a 6-0 rout of Serbia before the Albiceleste got caught by a sucker punch from the hosts in the quarter-finals.
The following year was notable by its lack of trophies but he was never far from the headlines scoring Maradonaesque goals and leading Argentina to the final of the Copa America.
He has been the star of a struggling Barcelona in 2008 and will no doubt be just that at the Games in August.
Copyright 2008 Agence France-Presse.