Larisa Latynina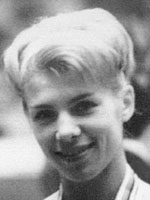 Larisa Latynina
Date of birth

1934-12-27
Birthplace

Kherson
Discipline

gymnastics
Olympic Games (18 medals - 9 gold, 5 silver, 4 bronze)
All-around: 1st (1956, 1960), 2nd (1964)
Teams: 1st (1956, 1960, 1964)
All-around teams (portable apparatus): 3rd (1956)
Vault: 1st (1956), 2nd (1964), 3rd (1960)
Uneven bars: 2nd (1956, 1960), 3rd (1964)
Beam: 2nd (1960), 3rd (1964)
Floor: 1st (1956, 1960, 1964)
World Championships (14 medals - 9 gold, 4 silver, 1 bronze)
All-around: 1st (1958, 1962)
Teams: 1st (1954, 1958, 1962), 2nd (1966)
Vault: 1st (1958), 2nd (1962)
Uneven bars: 1st (1958), 3rd (1962)
Beam: 1st (1958), 2nd (1962)
Floor: 1st (1962), 2nd (1958)
European Championships (14 medals - 7 gold, 6 silver, 1 bronze)
All-around: 1st (1957, 1961), 2nd (1965)
Vault: 1st (1957), 3rd (1965)
Uneven bars: 1st (1957), 2nd (1961, 1965)
Beam: 1st (1957), 2nd (1961, 1965)
Floor: 1st (1957, 1961), 2nd (1965)
The most successful gymnast ever
The daughter of a docker who worked on the Black Sea, Larissa Latynina transcended her destiny to win nine Olympic gold medals, a feat only achieved by other Olympic legends Mark Spitz, Paavo Nurmi and Carl Lewis.
The Soviet gymnast who revolutionised the floor event went on to win a total of 18 Olympic medals, thus becoming the most successful and consistent gymnast ever.
Latynina initially trained at a prestigious dance school. However, it would be the Olympic crowds in Melbourne, Tokyo and Rome - and not those in the theatre - who would bear witness to her inspiring displays.
It says a lot about her natural talent and determination to succeed that, after giving birth at the age of sixteen when her name was Dirii, she returned to the sport she loved and won a total of 50 medals, including 25 golds won in Olympic Games, world and European championships.
Following the birth, Latynina trained tirelessly to achieve her dream. It was enough that she carried on her sport - for many athletes, motherhood spelt the end of a promising career.
Not Latynina. In 1954, she was selected for the Soviet national team, the next year winning five titles in the world junior games in Warsaw. Needless to say, her Melbourne adventure gave an indication of what she would contribute to gymnastics when she won four gold medals, one silver and one bronze in the Australian city.
Five golds while pregnant
At the world championships in 1958, she competed while being pregnant but still won five gold medals.
Her daughter Tania was born ten days before her 24th birthday.
The Rome Games in 1960 also witnessed Latynina at her best, winning three golds, two silver and one bronze in the majestic arena near the Spas of Caracalla.
Tokyo four years later, however, provided Latynina with the challenge of the rising Czech starlet, Vera Caslavska. Despite failing to win the all-around title for the third consecutive time, Latynina won both team and floor exercise golds.
The Ukrainian performing for the Soviet Union continued until the European championships in Sofia a year later, winning four silver medals and one bronze. With a degree in physical education, Latynina was named coach to the Soviet women's gymnastics team, going on to become the international technical adviser to the sport's governing body.
Copyright 2008 Agence France-Presse.