Andrei Lavrov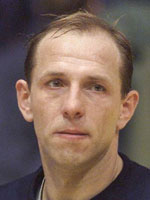 Andrei Lavrov
Date of birth

1962-03-26
Birthplace

Krasnodar (USSR)
Height

197 cm
Weight

91.0 kg
Position

Goalkeeper
Clubs

Skif Krasnodar, Ivry (Fra), Besancon (Fra), Niederwurzbach (Ger), Badel 1862 Zagreb
Olympic Games (4 medals - 3 gold, 1 bronze)
Winner: 1st (1988, 1992, 2000), 3rd (2004)
World Championships (4 medals - 2 gold, 2 silver)
Winner: 1st (1993, 1997), 2nd (1990, 1999)
European Championships (3 medals - 1 gold, 2 silver)
Winner: 1st (1996), 2nd (1994, 2000)
Into the history books
Russian handball goalkeeper Andrei Lavrov entered the history books when he won his third Olympic title at the Sydney Games in 2000.
The massive Lavrov helped his team to gold at the age of 38, meaning he now sits alongside Staffan Olsson and Magnus Wislander as three-time winners in handball.
Even at an advanced age for a sportsman Lavrov's reflexes were still largely intact - one of the main reasons the Russian handball squad continued to turn to him as late as 2000. He also holds another piece of history having won his three gold medals wearing the colours of three different countries.
At the 1988 Games in Seoul where, as a 26-year-old, he kept the South Korean attack to a minimum for his first Olympic title with the Soviet Union.
Four years later the same Lavrov formed part of the Community of Independent States (CIS) team which contained only four members of the previous Olympic team - with Mikhail Vasilyev, Valery Gopin and Igor Chumak - which extinguished Sweden's hopes of the gold in the final.
Globe Trotter
His early career was spent with his hometown side, SKIF (Krasnodar), which he followed with a spell at Niederwurzbach in Germany.
He has also played for Besancon in France, while, currently, he employs his consistency and oustanding penalty-saving skills for Badel 1862 in Zagreb.
He doen't know exactly how many times he has played for his national side but the figure would be in the region of 300.
At the world championships in 2001 which he won twice (1993, 1997), Russia finished sixth as hosts France took the title while two years later in 2003, Russia could only manage fifth.
The curtain came down on a long and illustrious career when Russia took bronze at Athens 2004 after a loss to Germany in the semi-finals. Lavrov's legacy looks set to bear further fruit though as his two sons Ivan and Sergei are becoming serious talents in the sport.
Copyright 2008 Agence France-Presse.