Carl Lewis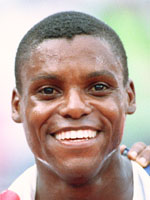 Carl Lewis
Date of birth

1961-07-01
Birthplace

Birmingham (Alabama)
Height

188 cm
Weight

80.0 kg
Discipline

100m, 200m, relays, long jump
World records

13 (100m, 4x100m and 4x200m relays, long jump)
Olympic Games (10 medals - 9 gold, 1 silver)
100m: 1st (1984, 1988)
200m: 1st (1984), 2nd (1988)
4X100m relay: 1st (1984, 1992)
Long jump: 1st (1984, 1988, 1992, 1996)
World Championships (10 medals - 8 gold, 1 silver, 1 bronze)
100m: 1st (1983, 1987, 1991)
200m: 3rd (1993)
4X100m relay: 1st (1983, 1987, 1991)
Long jump: 1st (1983, 1987), 2nd (1991)
World Cup (1 medal - 1 gold)
Pan American Games (3 medals - 2 gold, 1 silver)
4x100m relay: 1st (1987)
Long jump: 1st (1987), 3rd (1979)
The one and only Carl Lewis
There is only one Carl Lewis.
During a fifteen-year period, the charismatic American athlete showed immense talent coupled with an impeccable sporting personality to make him one of the biggest stars of the past century.
His results speak for themselves: nine Olympic gold medals in four disciplines (long jump, 100m, 200m and the 4x100m relay) and eight world championship titles.
In the history books, "King Carl" will remain inextricably linked with his illustrious compatriot Jesse Owens (four titles at Berlin in 1936), winning four gold medals in the same events (100m, 200m, long jump and the 4x100m relay) in the Los Angeles Games in 1984.
His place in the annals of sport were also assured by his long jump gold in Atlanta. This was his fourth consecutive Olympic title, equal to that of American discus legend Al Oerter who also won four straight titles in consecutive Games.
Lewis' ninth medal placed the sprint specialist alongside middle distance all time great Paavo Nurmi. Known as the the "Flying Finn", he had previously been the only athlete to have won nine Olympic gold medals.
In athletics Nurmi stood alone for almost 70 years and bagged his gold haul between 1922 and 1928 but his feat was equalled by Soviet gymnast Larissa Latynina, between 1956 and 1964, and the American swimmer Mark Spitz, between 1968 et 1972.
Taking the baton from Owens
Inspiration for Frederick Carlton Lewis' Olympic odyssey came in 1974 when he met Owens, a fellow native of Alabama.
The 13-year-old, who grew up in New Jersey, was bowled over by his idol and from then on, a successful athletics career became his target.
Nine years later Lewis exploded onto the senior international scene, taking three gold at the world championships with victories in the long jump the 100m and 4x100m.
At the Los Angeles games of 1984 Lewis then managed what Owens had achieved at Berlin by collecting the first four of his Olympic gold medals.
Though the Soviet Union had boycotted those Games the Smiley sprinter was on such form it is doubtful Soviet presence would have stopped him.
His Olympic adventures continued at Seoul in 1988. After originally being pushed into second in the 100m, Canada's gold medallist Ben Johnson was revealed as a dope cheat and his gold was given to Lewis, who won the second of his long jump gold's in South Korea too.
The 100m final at the Tokyo world championships of 1991 is remembered as one of the most exciting ever. Lewis got off to a poor start but a blistering finish saw him recapture the world record with a time of 9.86 and of course lift the gold medal too, his third over the distance at a world championships (1983, 1987).
The long and short of it
Tokyo also produced a thrilling long jump struggle between Lewis and his compatriot Mike Powell both broke the staggering world record of 8m90cm set by Bob Beamon in 1968 but Powell had the last word snatching gold by 4cm.
At the Barcelona Games a year later Lewis gained revenge with his third long jump gold and added another in the 4x100m relay to take his Olympic gold tally to eight.
At Atlanta, the ageing Lewis took part in only the long jump and was having difficulties. But he proved what a truly exceptional athlete he was by earning his historic ninth Olympic gold in his third and final jump. He was 35 years old.
After fifteen years of unparalleled success, Lewis said two farewells. Fittingly on August 26, 1997 in Berlin in the same stadium that Owens had graced with his presence 61 years earlier, and more discreetly the next month on September 13 in Houston, where he had attended university and started his star-crossed athletics career.
Copyright 2008 Agence France-Presse.