Jeannie Longo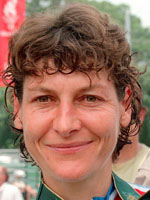 Jeannie Longo
Date of birth

1958-10-31
Birthplace

Annecy
Height

164 cm
Weight

47.0 kg
Discipline

road (time-trial), track (pursuit)
World records

38 (Outdoors and track - km, 3km, 5km, 10km, 20km, hour)
Team

Uniqa (2007), Team Pro Les Carroz (2008)
Olympic Games (4 medals - 1 gold, 2 silver, 1 bronze)
Road race: 1st (1996), 2nd (1992), 6th (1984)
Time trial: 2nd (1996), 3rd (2000)
Individual pursuit: 5th (1992)
World Championships (26 medals - 13 gold, 8 silver, 5 bronze)
Road race: 1st (1985, 1986, 1987, 1989, 1995), 2nd (1981, 1993), 3rd (2001)
Time-trial: 1st (1995, 1996, 1997, 2001), 2nd (2000), 3rd (1994)
Team time-trial: 2nd (1992)
Pursuit: 1st (1986, 1988, 1989), 2nd (1984, 1985, 1987), 3rd (1981, 1982, 1983)
Points race: 1st (1989)
Mountain bike: 2nd (1993)
Tour de France
1st (1987, 1988, 1989), 2nd (1985, 1986, 1992/Tour Cycliste feminin, 1995/Grande Boucle), 3rd (1996/Grande Boucle)
French Championships
55 titles all disciplines combined (up to 08/07/2008)
Queen Jeannie
With more than 1,000 victories and 30 world and Olympic medals France's Jeannie Longo earned the nickname of the "Cannibal" during her long and successful cycling career which saw her perform at the Athens Games at the ripe old age of 45.
She has a relentless drive for success and has pushed her aging body to the extreme as she continues to compete at the top despite approaching her 50th birthday and picking up national titles 53, 54 and 55 on the eve of the Games.
A perfectionist who was eternally dissatisfied with her performances, Longo gave women's cycling the respect it sorely lacked throughout the 1980's and 90's, and added her own special aura as much by her consistent feats as by her strong personality.
Since the introduction of women's cycling to the Olympic programme in 1984, Longo has barely missed an appointment.
In 1979, during the period when she was a keen skier, Longo won her first national title, with the following years consecrated to confirming her talent on different surfaces and races - notably in time trials and mountains, two of her favourite terrains.
Along with mediocre performances in the Olympic Games of 1984 and 1988, Longo won three Tour de France races, recorded hour records as if they were going out of fashion, and pedalled her talent worldwide before taking a short break from the sport in 1990.
Longo came back, however, for the 1992 Olympic Games in Barcelona, where she took her first podium place, although the Grenoble native would have to wait until her fourth Olympic participation, in Atlanta four years later, to win the ultimate prize. She completed her Olympic collection with a bronze medal in the time trial at Sydney in 2000.
The "Joan of Arc" of cycling
The autumn of her career proved just as successful. At 42 she collected her 13th world title in 2001. Cycling's "Joan of Arc" seemed irrepressible, but was equally at home on the racetrack as sitting at home in Grenoble preparing vegetarian meals or playing her piano.
Occasionally overbearing, and always with something to say, she has always been prepared to do battle with whoever came forth, but always with the support of husband and coach, Patrice Ciprelli.
She accused certain media of losing interest in women's cycling, and also pointed the finger at the sport's administrators when they tried to impose race conditions on her that were liable to end in her defeat.
A straightforward individual who at times has been demanding, Longo will be remembered for her sporting ability, through which she stretched the boundaries of the pre-conceptions of women's cycling.
She can also count 38 world records to her credit and has still not mentioned retirement.
Copyright 2008 Agence France-Presse.